Madrid cuisine offers latin bites from all over the world. During our stay we indulged in its menu del día, went rushing back to its food market, and couldn't stop having its cured meat freshly cut from the pig leg itself. Take a food lovers trip through this post to find out more.
The first restaurant we ate at in Madrid was Casa Nicasio, and it was the only one we couldn't find on Trip Advisor (because my husband stalks that site when it comes to finding somewhere to eat).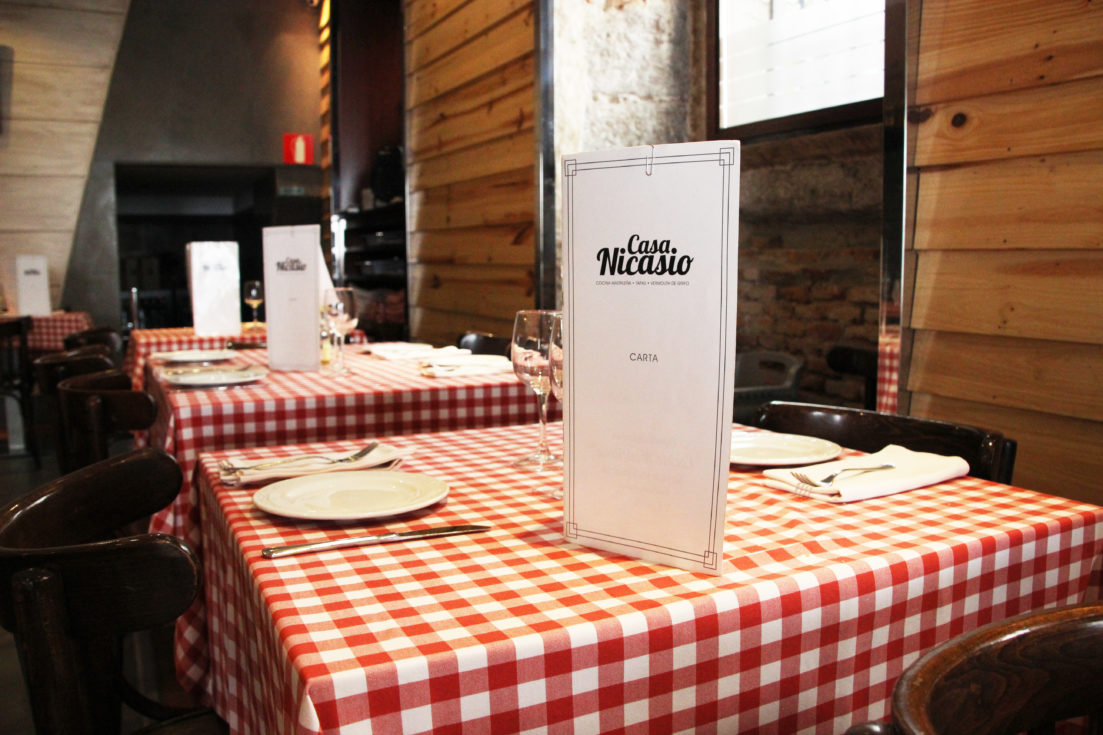 When we arrived, around 12:30 in the afternoon, we were the only ones in there. "Where are all the people," we thought. We came up with the guesstimation (a made-up word I like to say, combining guess and estimation) that maybe it was new because there weren't any reviews for it, or the food was really bad and we were about find out ourselves because we were too hungry to leave… ha ha
The waiter recommended we order from the Menu del día, which came with a soup, main entree, and dessert for something like 13 euros. It was a steal compared to the rest of the menu's prices, so we took it.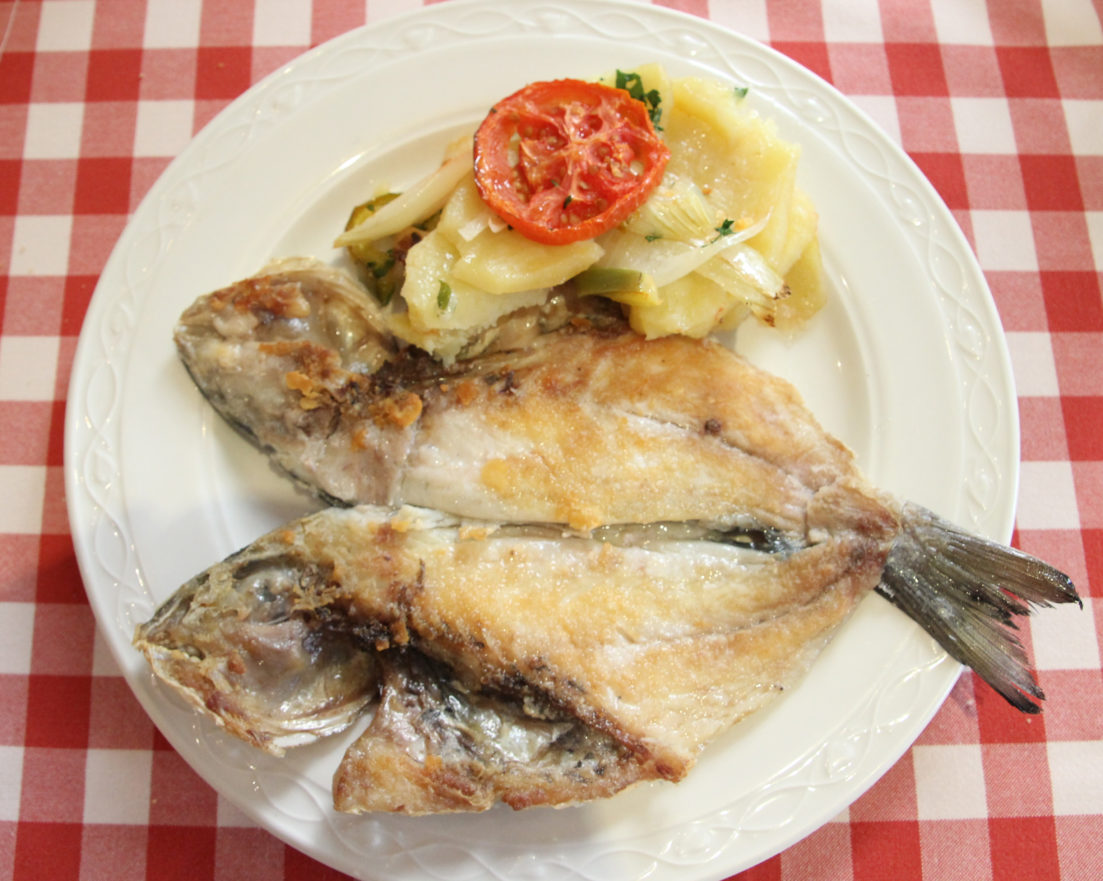 The baked fish I ordered was brought out like I've never had it before: whole, and cut in half. Even though fish doesn't often come served like this back in the states (at least from my experiences), it was tasty. And so were those potatoes.
As we were eating our desserts, we noticed people flooding into the restaurant. Later, we learned that Madrilenes (people from Madrid) eat lunch from 1 to 4 pm. We also learned that ordering from the Menu del Días are what most Spaniards do when they dine for lunch in Spain.
Where To Eat in Madrid
If you're going to eat in Madrid you should definitely eat at the Oldest Restaurant in the World! Yes, that's what I said, and it has a Guinness World Record to prove it.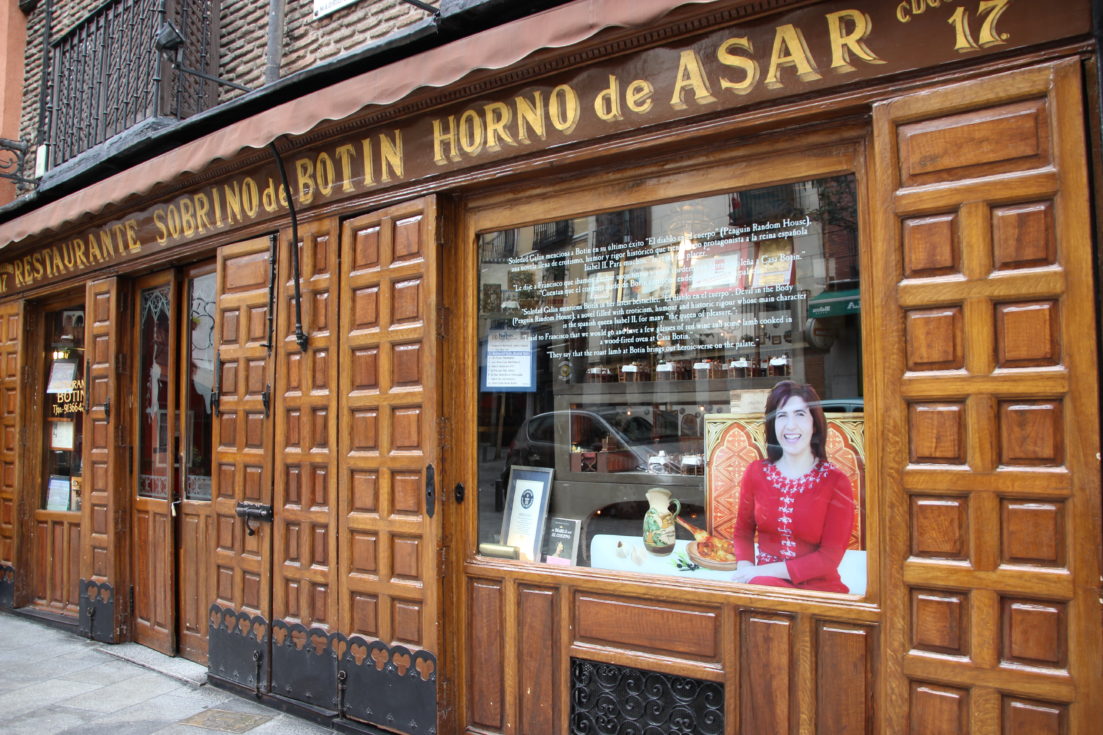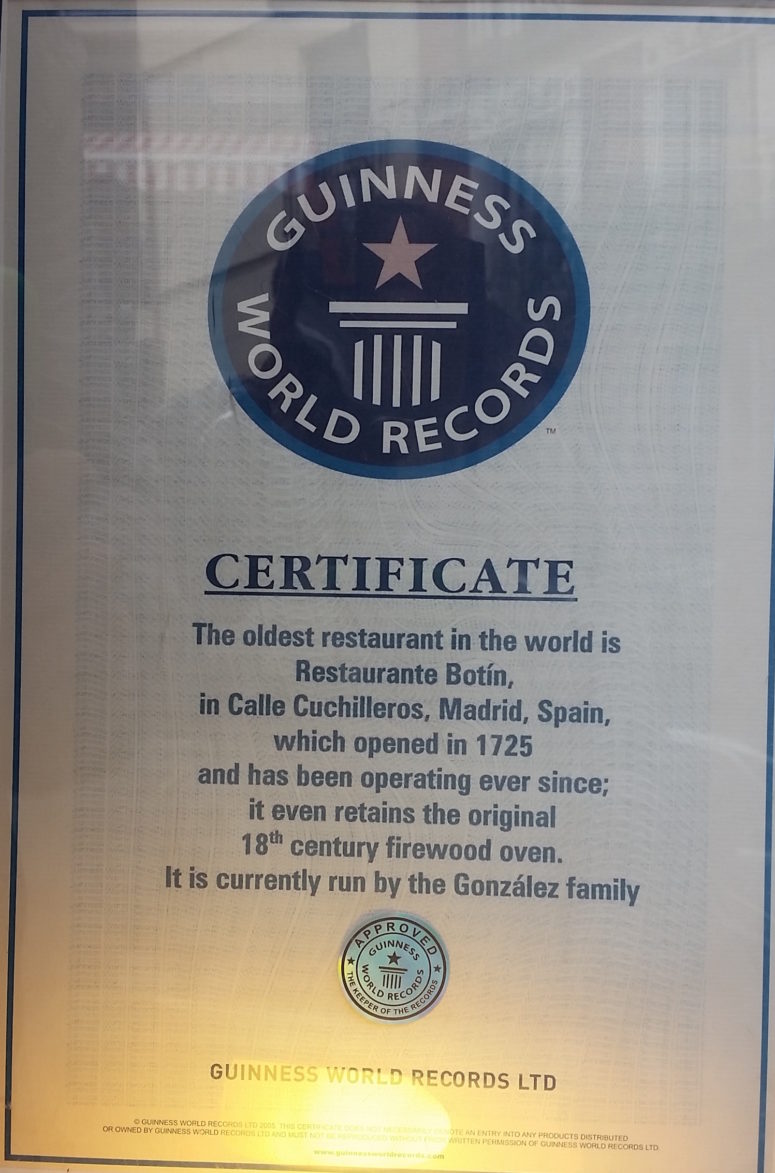 Besides the fact that you go back into time and eat among ancient stone walls underneath the modern ground levels, the food is also cooked in its original 18th century firewood oven. It's pretty good too.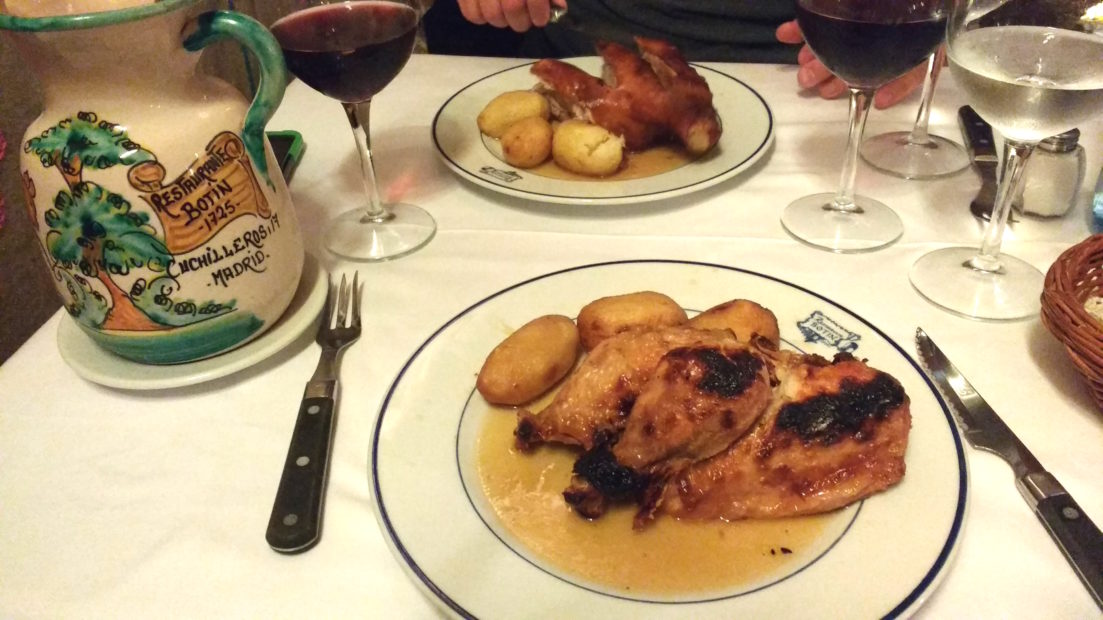 I ate chicken, while my husband had the famous suckling pig. I had to pass on the baby pig dinner, due to its name and being a skittish meat eater. However, we both didn't know, at the time of the meal, it was that kind of pork.
Whether you love pork or not, you're going to have to get used to it because it's all over Madrid.
You can't go down a street without spotting a shop with cured pork leg meat.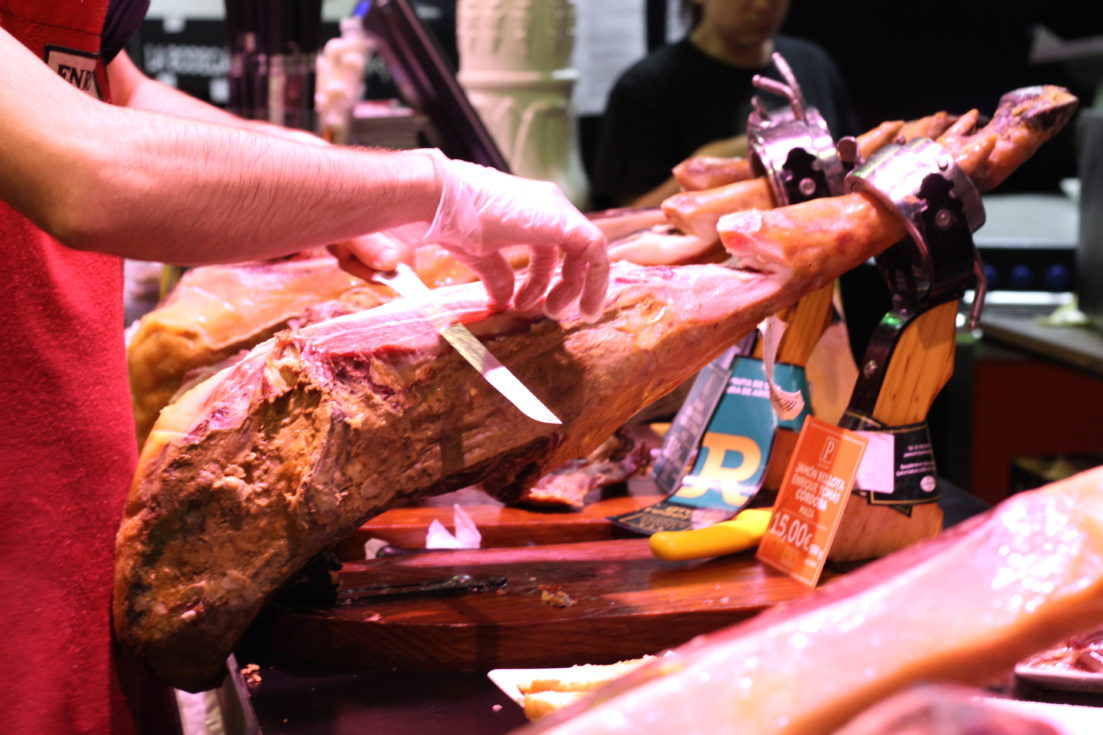 I've never seen anything like it before. And after going on a few historic Madrid tours I believe pork has been a meat choice of centuries for Spain.
In Italy, they call it antipastos. In Madrid, it's Tapas!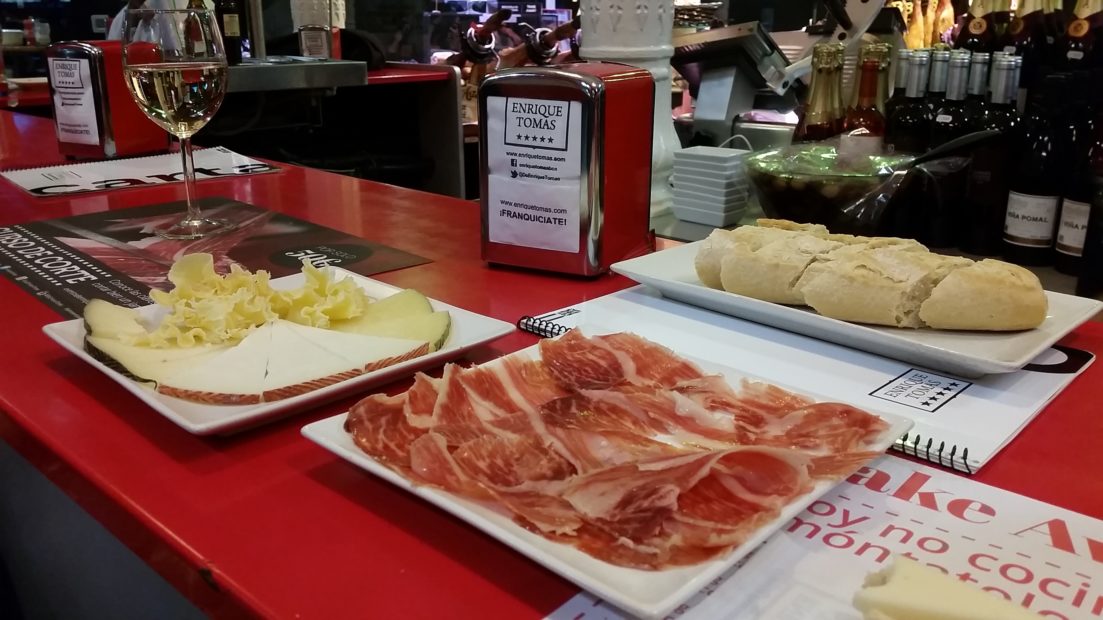 One of my favorite places to eat in Madrid was Cuando Salí De Cuba because of its authenticity. It brought me back to the times I lived in Miami, and/or eating my Mother-in-laws cooking (my husband is half Cuban). It was AMAZING! I mean so good that we didn't even take a picture of it before we started devouring it. My mouth is watering just talking about it 😉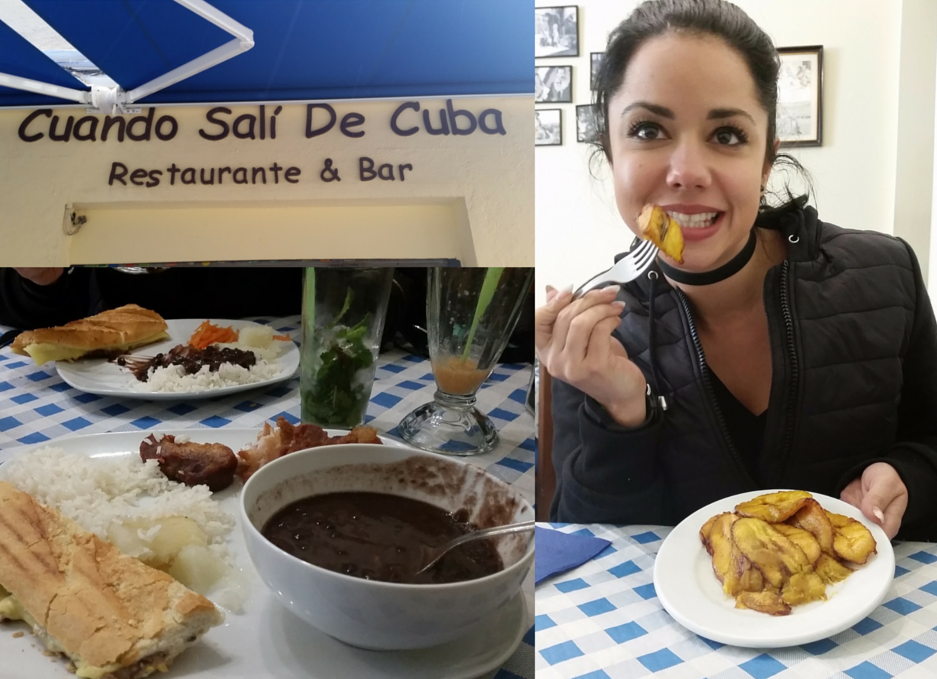 If you like Cuban food, I highly recommend it.
Another hot spot is Takos al Pastor. It's a small Mexican joint that serves tacos and they're just 1 euro each.
 cheap, cheap, cheap + yum, yum, yum = Yes Please!
We liked the Al Pastor flavored tacos the best, which are shown below with the quesadillas.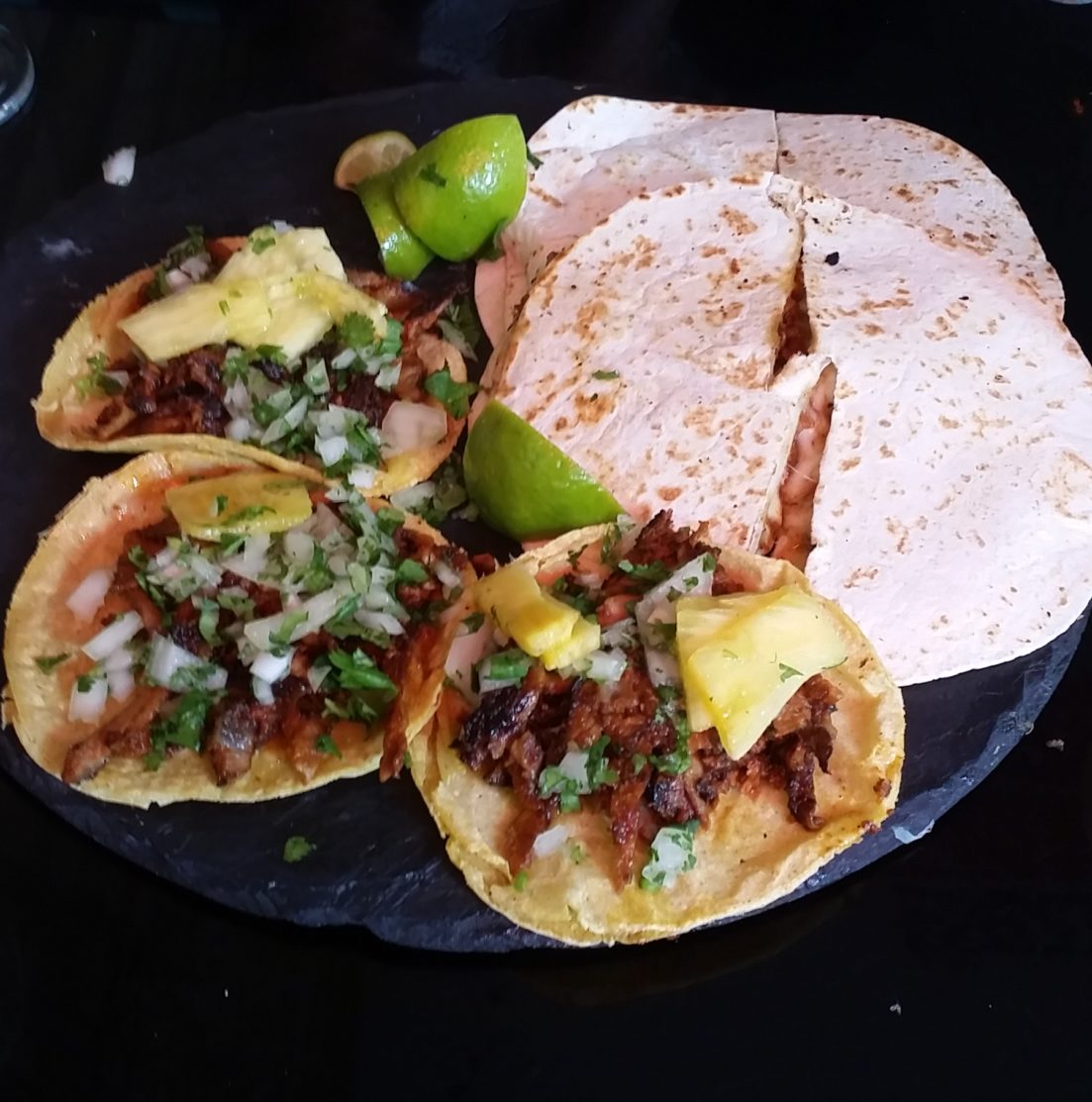 If you're going to go somewhere to eat in Madrid, then take yourself to Mercado de San Miguel.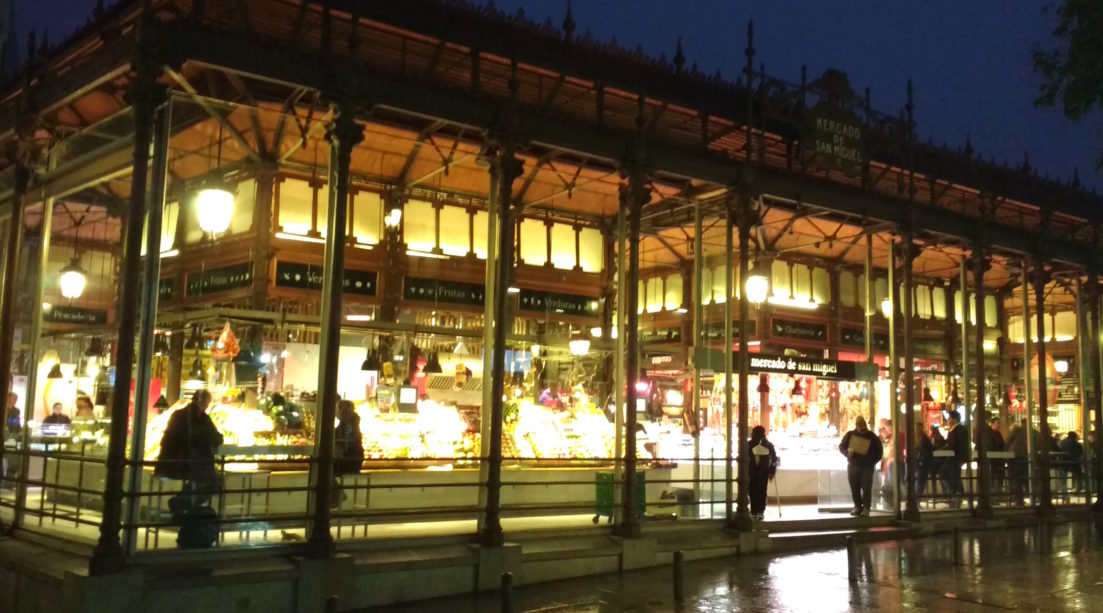 It's a lively market plaza in the heart of Madrid and it is delicious. If offers all different kinds of food from meats to seafood to cheeses and drinks.
You can cheaply try multiple bites as you walk around, like this Croqueta frita.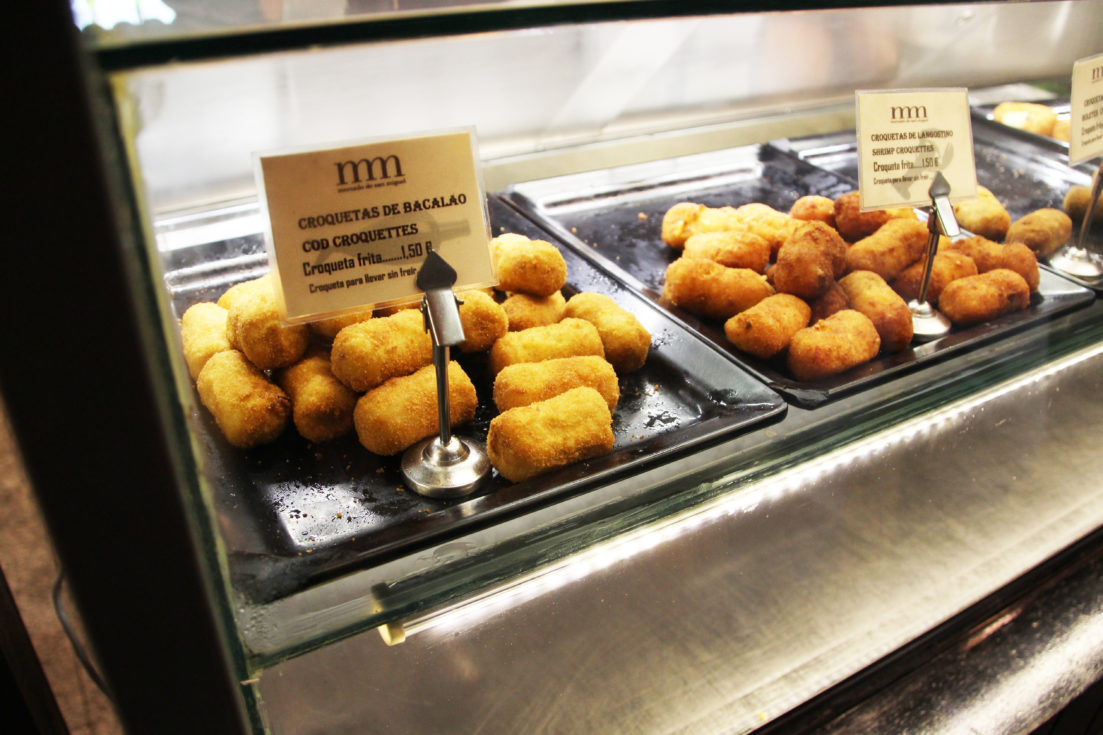 Plus, if you want a tasty sangria in Madrid, Mercado de San Miguel is the place you'll find one. Go to the coffee shop located in the back corner.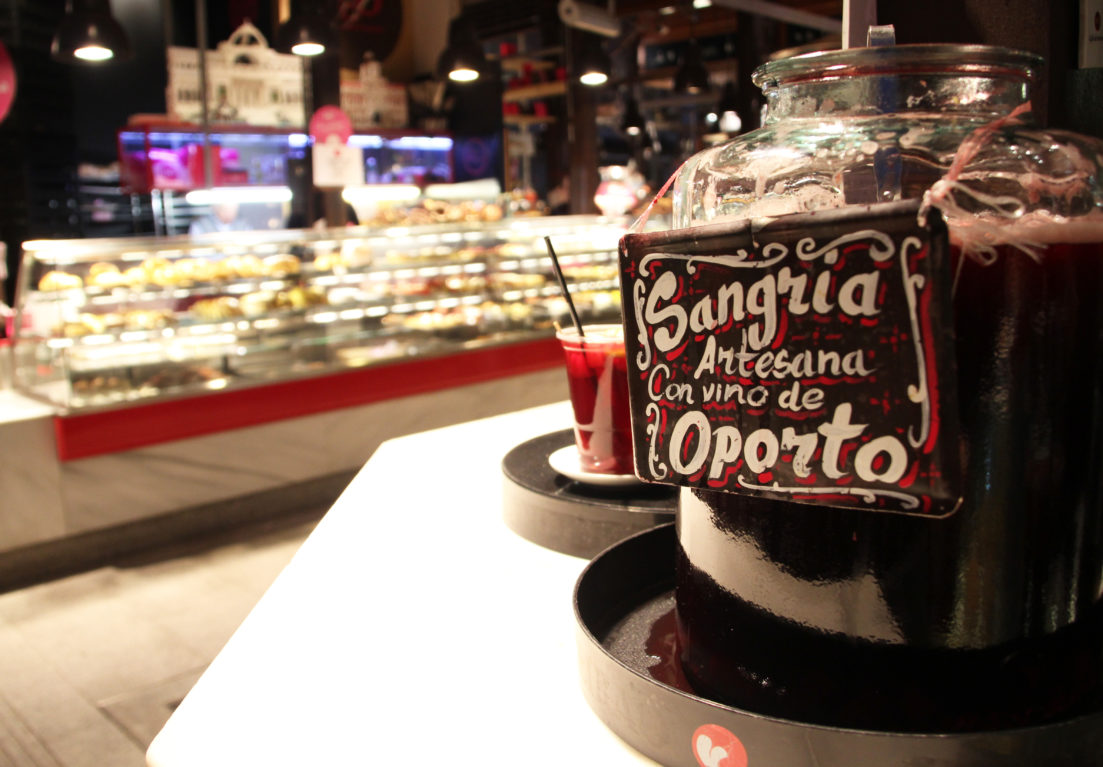 While you're there, grab a few of the fresh pasteles. You won't regret eating sweet when it's something this good. I promise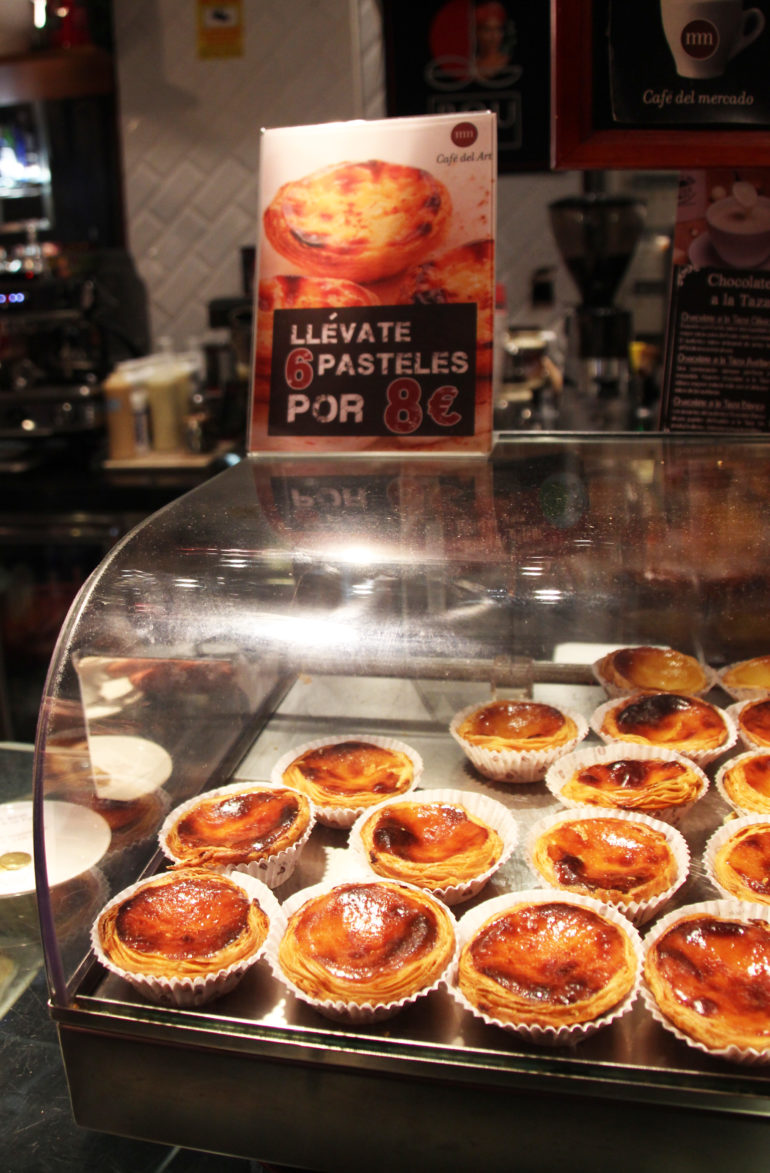 Lastly on our eating ventures in Madrid is this small bar, just a few blocks up from Gran Via, called Bodega de la Ardosa.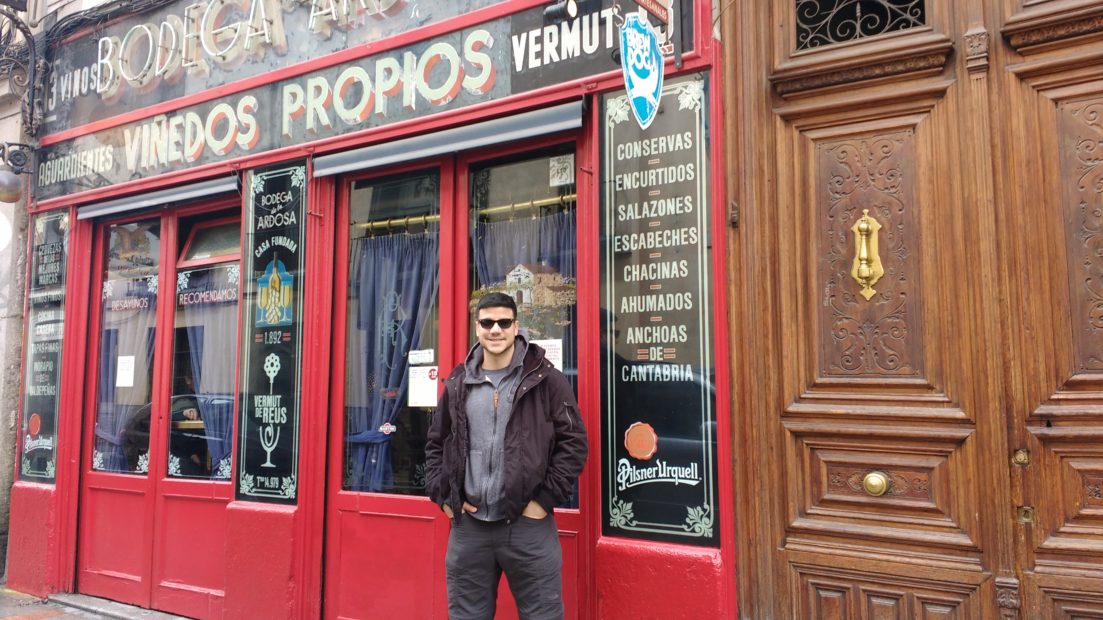 We went here for a bite I couldn't get enough of:
 Tortilla de Patatas.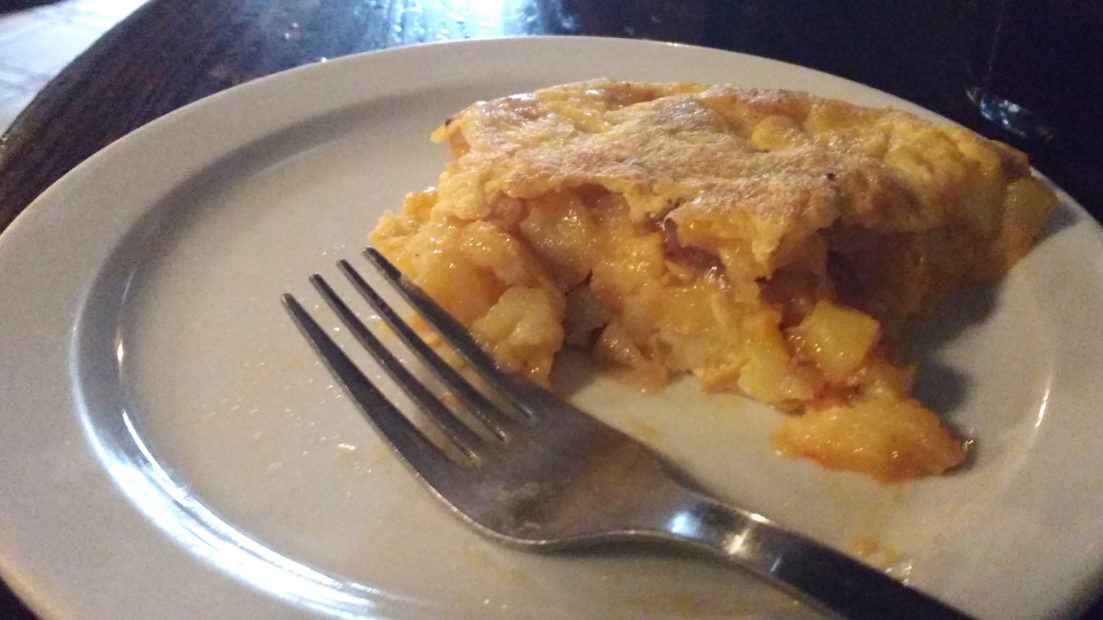 This Spanish styled omelet is filled with flavor and extremely tasty at this location. I ordered two 😉
We had a great stay in Madrid, and I can't wait to go back to Spain… for the food!