In this post we'll explore five pizzerias in Naples, Italy and learn why this place is famous for its pizzas.
Naples Pizza, known as Napolenta Pizza, is the mother of all modern pizza and dates back to the 18th century. It's basically where tomato sauce met mozzarella cheese on top of some flatbread and things got heated (in a stone oven by the wood fire) for a quicky of 90 seconds then… BAM the magic happened and pizza was born!
It's not hard to imagine why this tasty masterpiece became worldly popular. Today, pizza is easily placed on a top 5 favorite food list in the states and comes in all different kinds of flavors. In Naples, you can also find creative topped pizza for a mouthwatering delight, or you can stick to the classic roots and order its Neapolitan.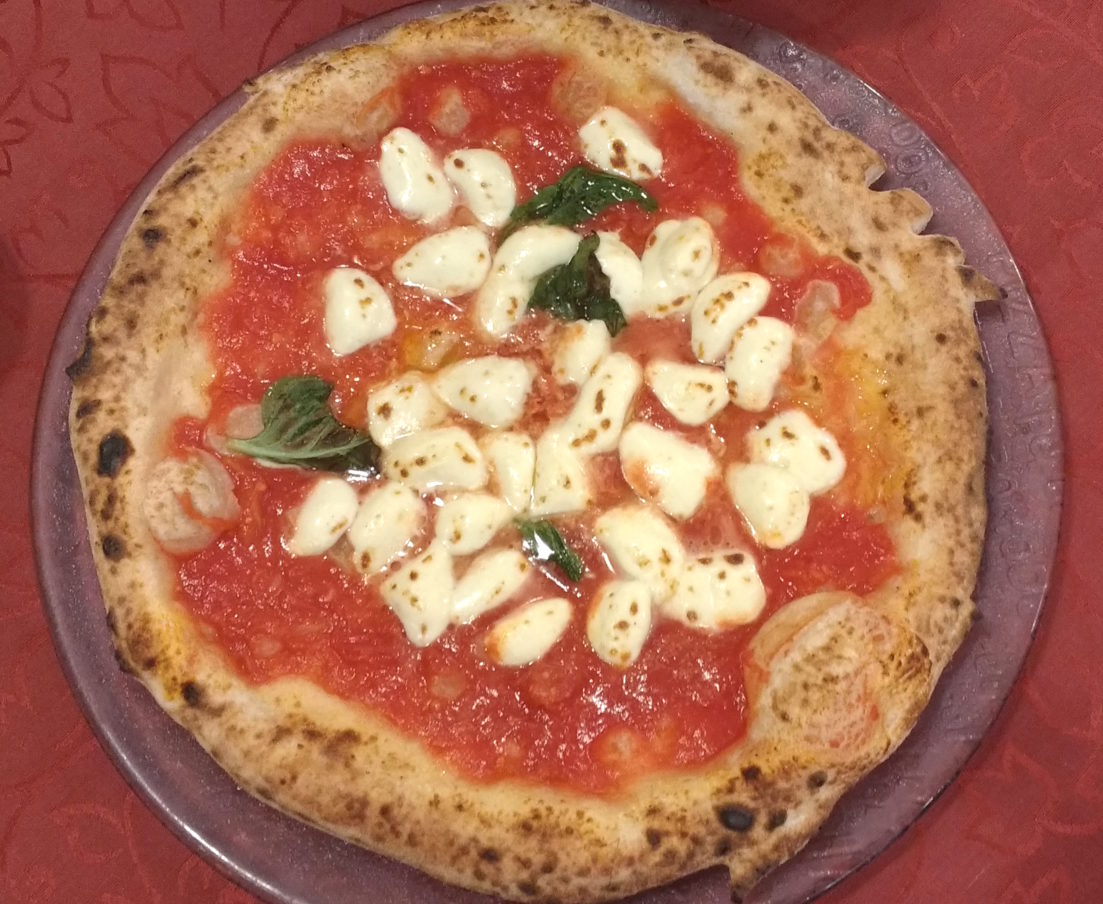 The above picture is an authentic Neapolitan pizza, which means it's certified. The Associazione Verace Pizza Napoletana (VPN) was founded in 1984, and it established requirements for pizzerias to use ancient artisan traditions for proper production of a Neapolitan pizza.
These requirements consist of:
Crust: Dough must be made with highly-refined Italian wheat flour, Neapolitan or fresh brewer's yeast, water, and salt. The dough must be kneaded by hand without help of a rolling pin.
Toppings:  San Marzano tomatoes from Italy (grown on the volcanic plains of Mt. Vesuvius); cow's milk mozzarella cheese, or mozzarella di Bufala (which is mozzarella cheese made from the milk of water buffalo); fresh basil, and extra-virgin olive oil.
Baking: Baking time cannot exceed 90 seconds in a minimum 800°F stone oven with a wood fire.
Everywhere else in Italy this basic pizza is considered the Margarita (yes pizza, not the Mexican tequila drink), and it doesn't follow these strict standards. However, it's still a good pizza.
Now that you know some history and credentials for pizza in Naples, let's get to where you can find it (:
Five Pizzas to eat in Naples
1. Pizzeria "Da Michele"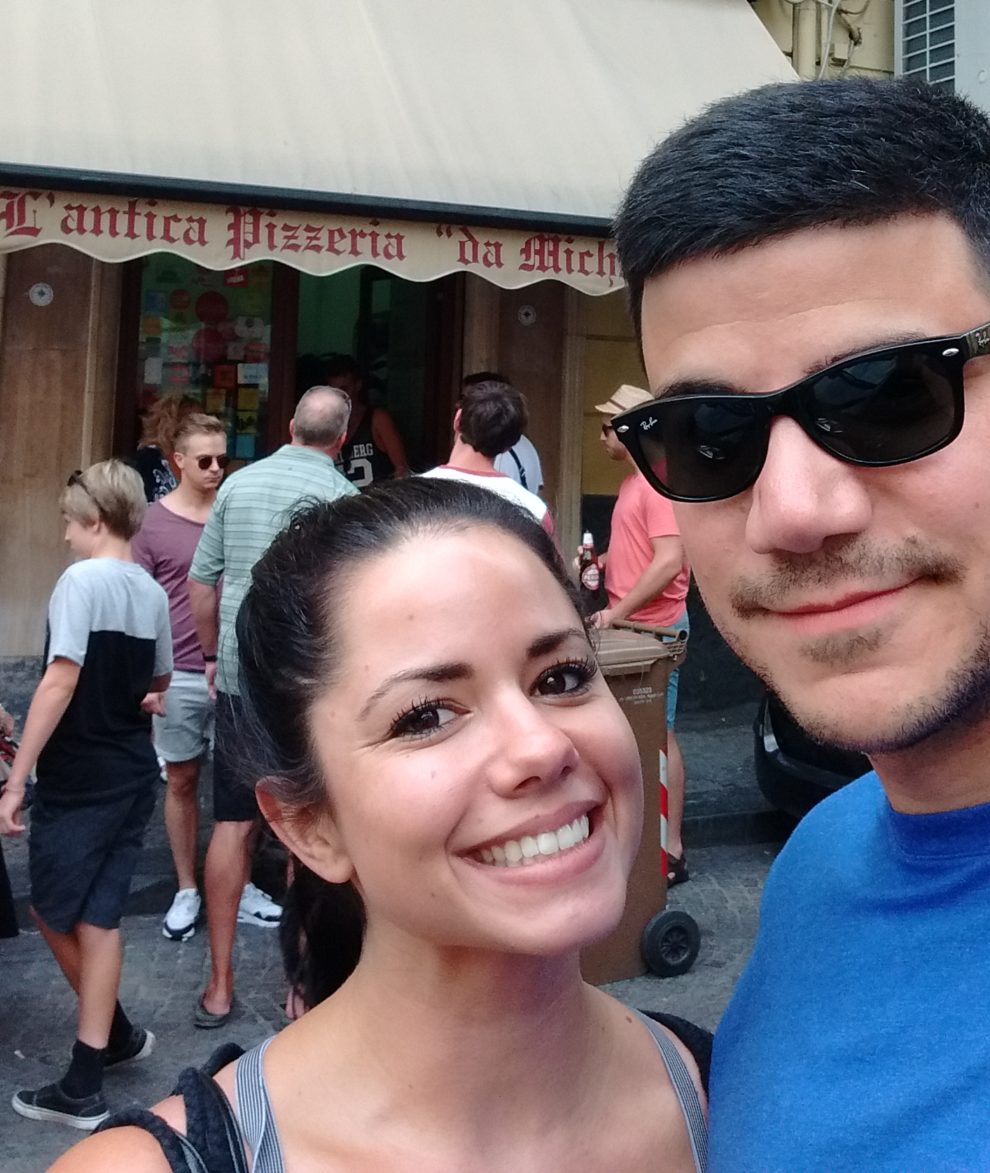 Pizzeria "Da Michele" is one of the oldest and most famous pizzerias in Naples. No matter what time of the day, expect to wait for a seat. You'll be handed a number and told to stand outside. Stay nearby because when they call numbers it goes fast!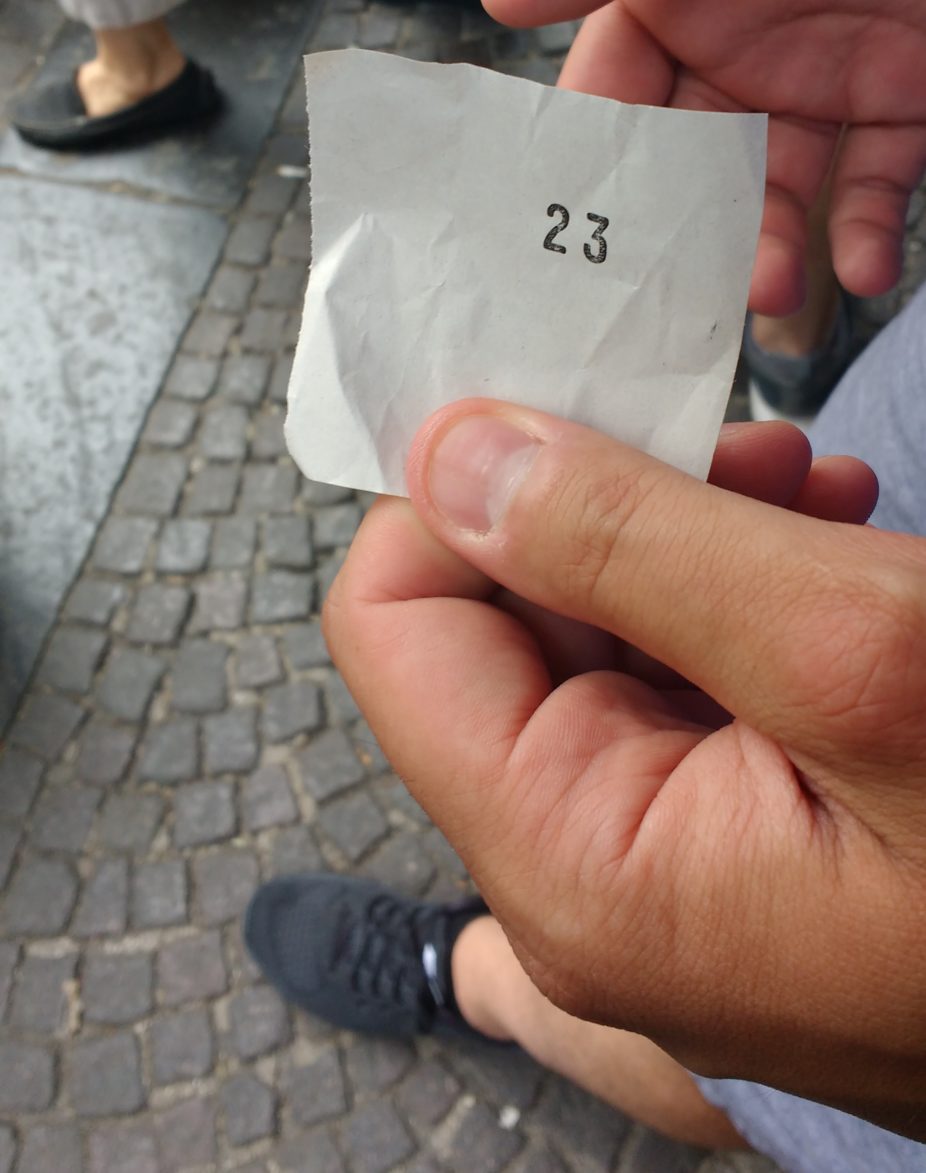 Once inside, be open to sit next to strangers. There's no menu and only two options: the Margarita or  the Marinara. We both ordered the Margarita.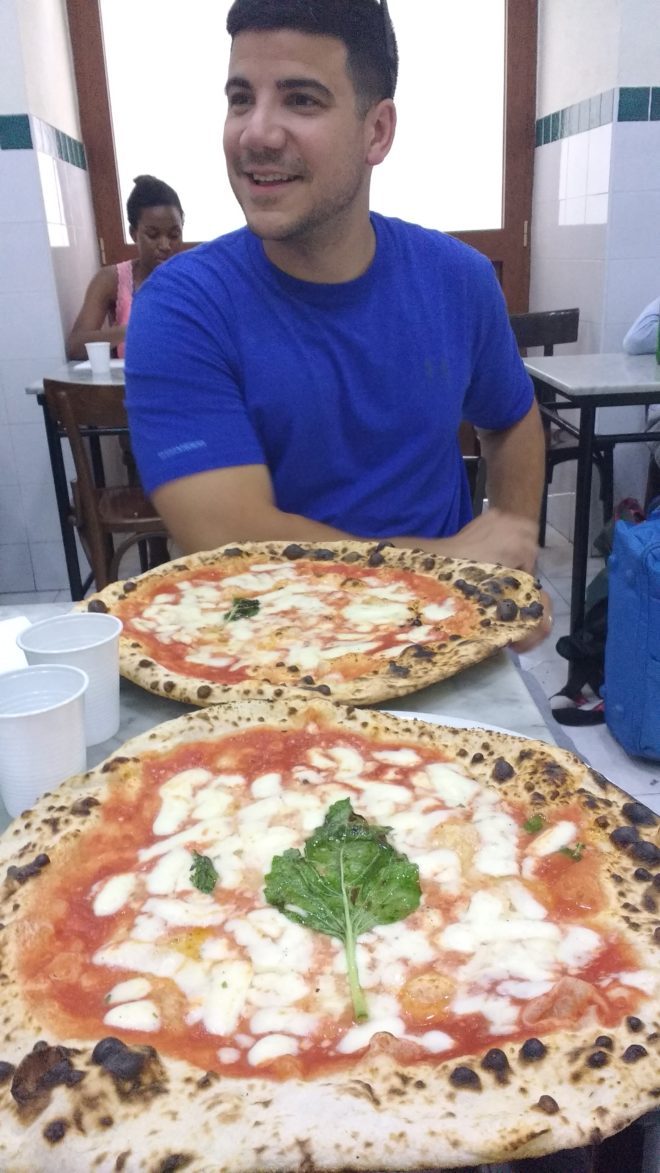 The difference between the two is the Marinara has an absence of cheese and added oregano and garlic for season.
Pizzeria Da Michele chooses to serve only two types of pizza because they believe these are the traditionally true pizzas.
I was quite surprised at how friendly and welcoming this place was, after my husband told me he read somewhere that you'll get kicked out if you lag or waste time (due to their desire to produce quick turnovers). I went in the pizzeria like a nervous visitor and was welcomed with plenty of smiles, plus a thumbs up— it was awesome!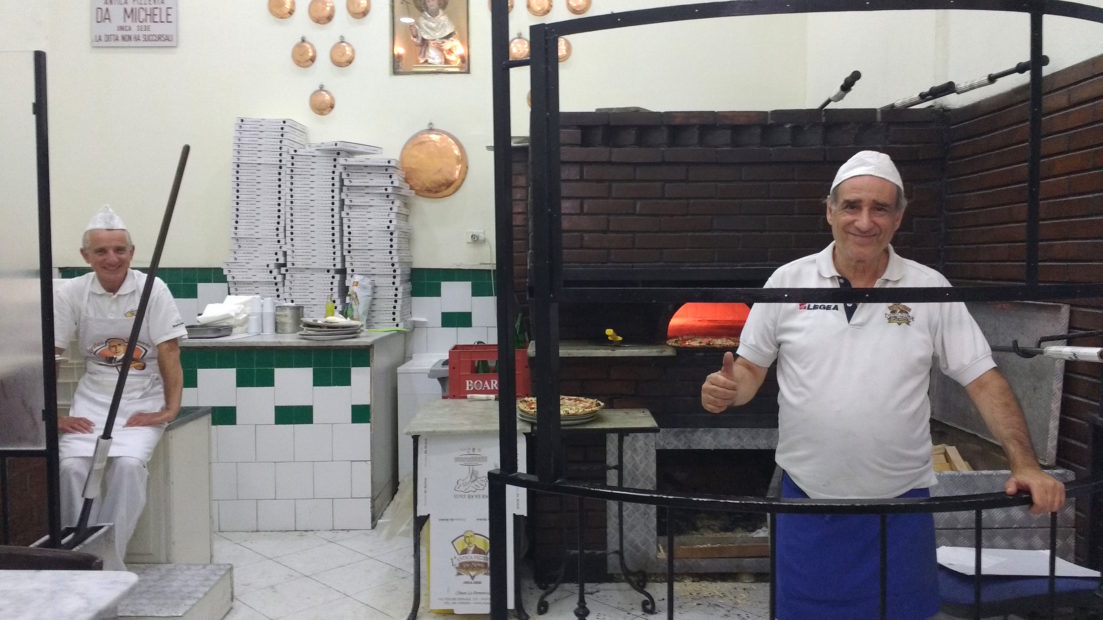 The pizza was really good too!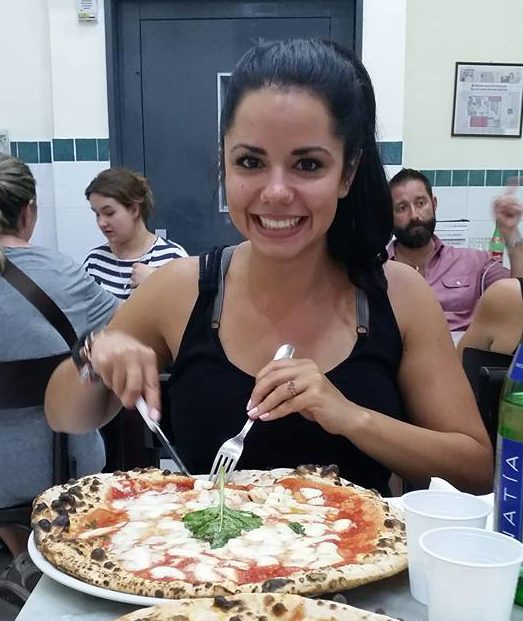 Be prepared to eat a whole (personal pan) pizza with a knife and fork: it's Italian pizza etiquette.
Another cool fact about Da Michele: it's featured in the movie Eat Pray Love.
Information for Pizzeria Da Michele
Open: Monday-Saturday 11am-11pm
Telephone: +39 081 553 9204
Price: 7 euro per pizza
Location:
2. Di Matteo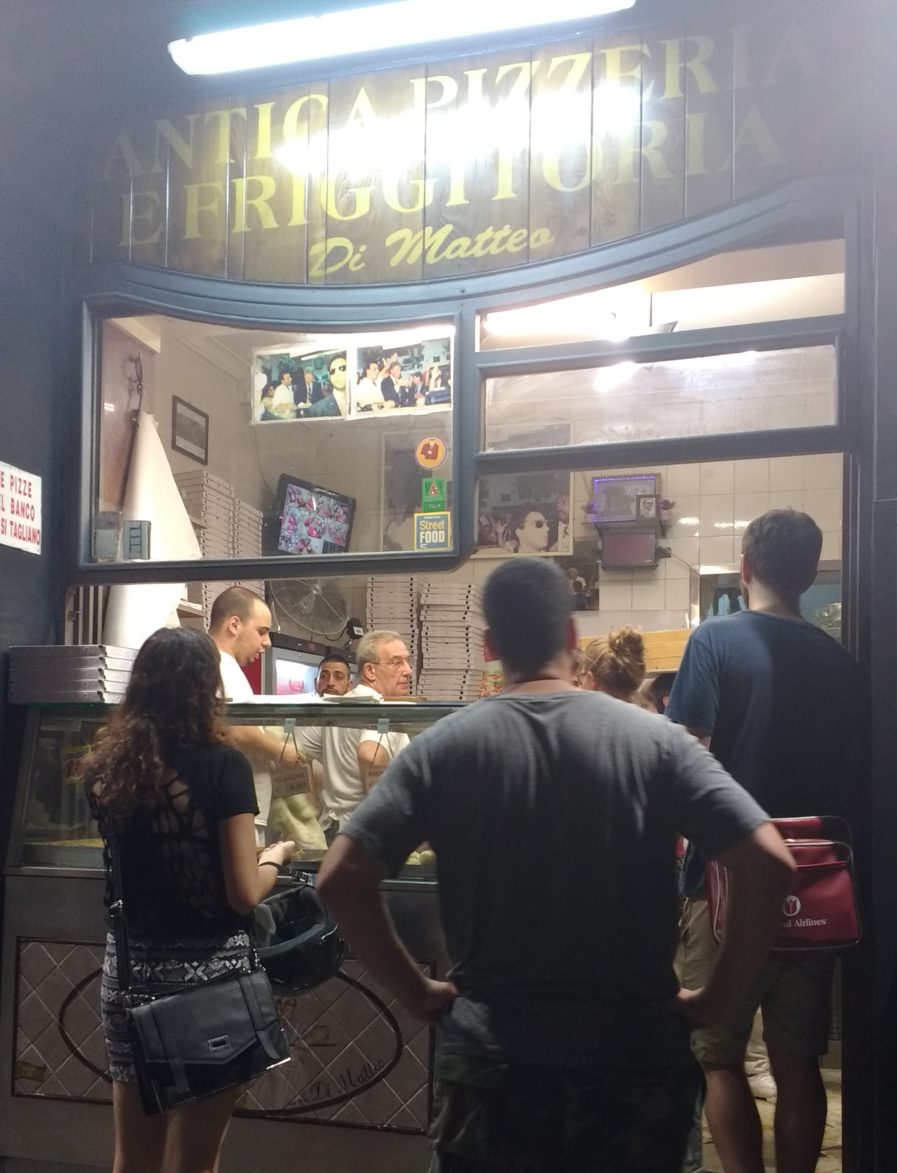 Di Matteo is located on a very lively and popular street in Naples, and it happens to be where I had my favorite pizza!!
We also had to wait outside for this one, after putting our name on a list, but got a great view of its golden stone oven.

My husband ordered a unique pizza (one he never had before) where they take pan dough, fold it in half, stuff it with cheese, and then add sauce and toppings to the top. It's another form of stuff pizza, and it's called Panna Prosciutto Fungi.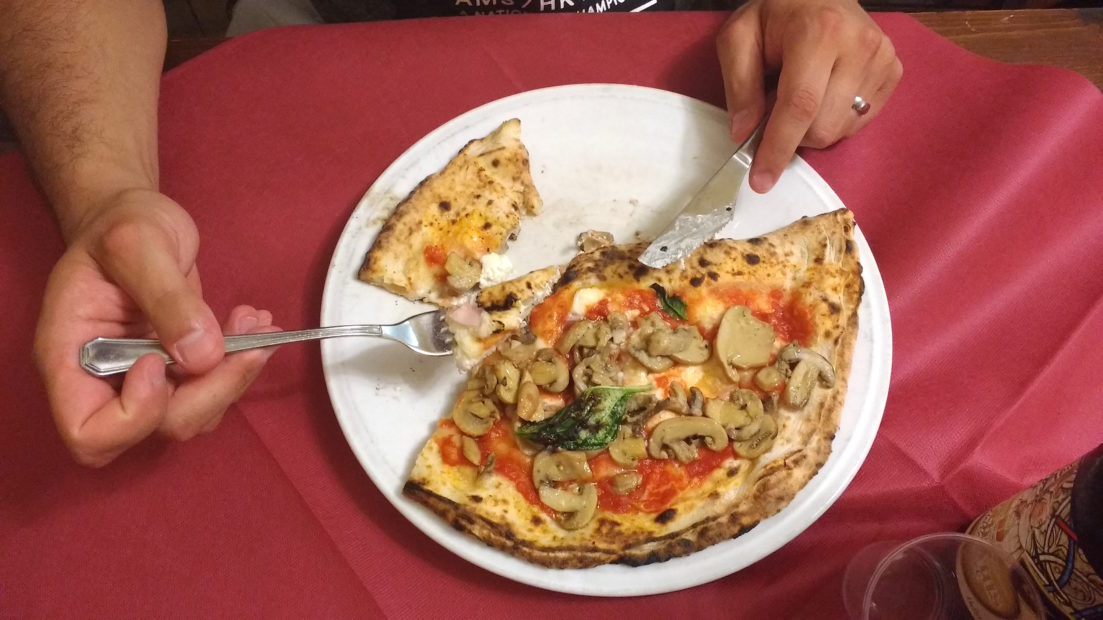 I ordered the diavola and it was delicious!!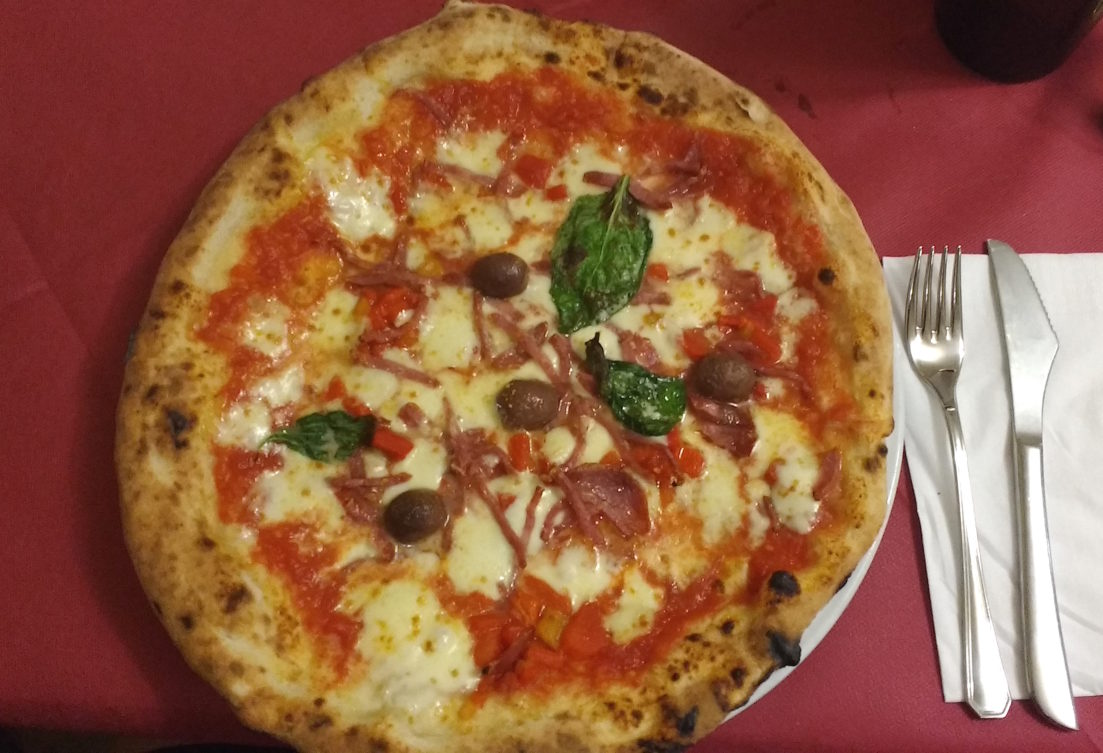 The service and atmosphere were great too. If I ever find myself in Naples again I would go back here— in a heartbeat! After all, it made me Pizza happy.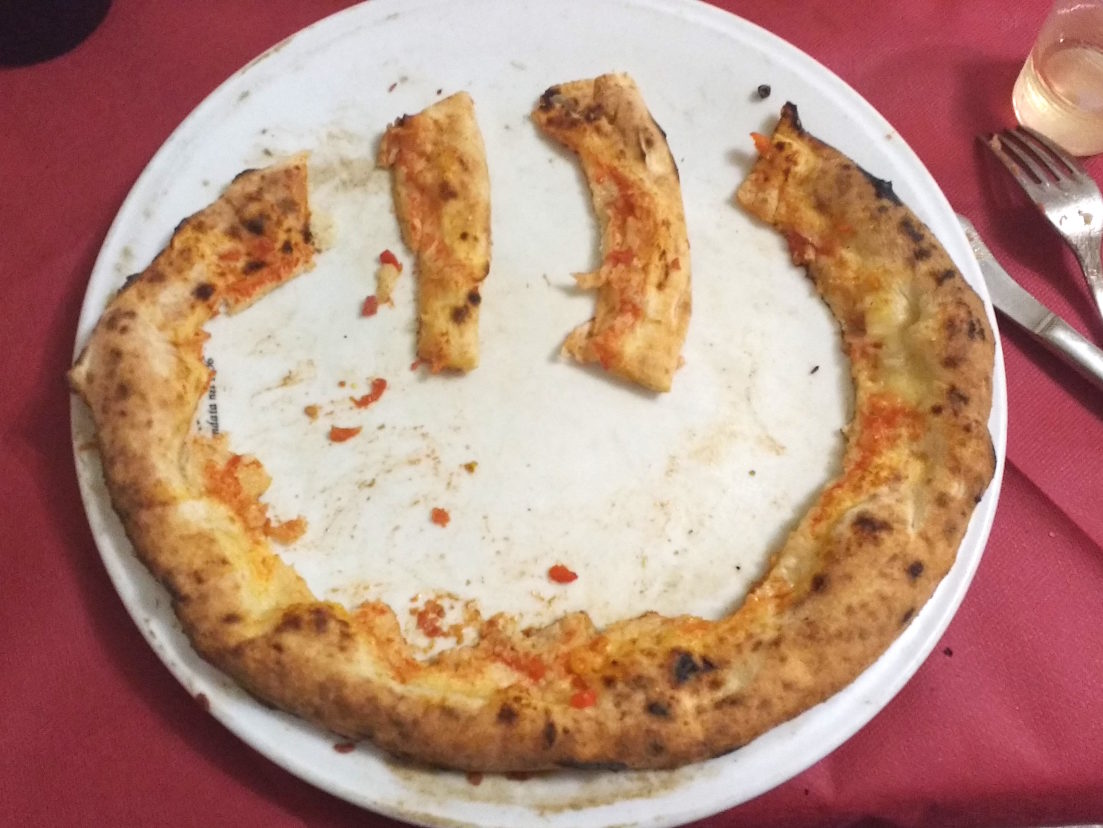 Information for Di Matteo
Open: 9am-12am
Telephone: +39 081 455262
Price: very cheap!
Website: http://www.pizzeriadimatteo.com/
Location:
3. La Masardona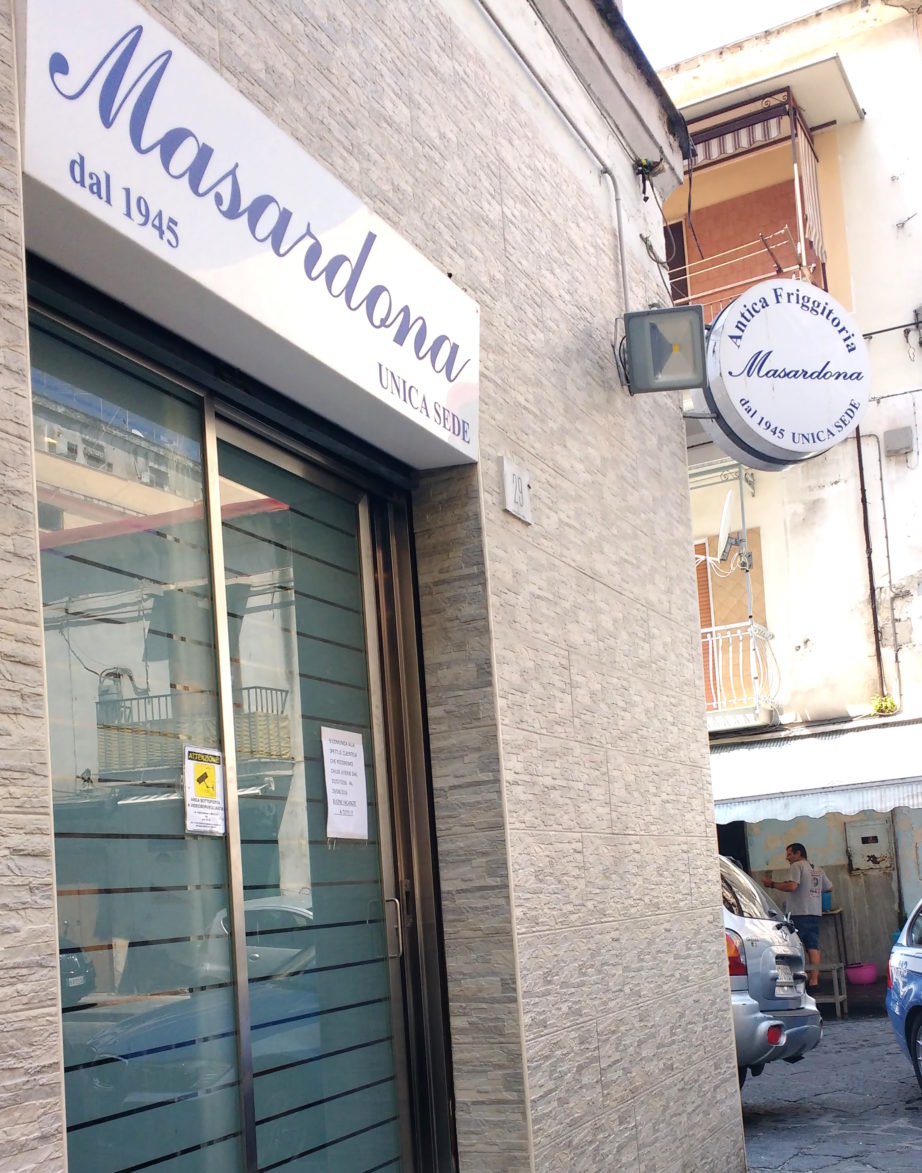 Another neat pizza experience happens a few blocks from the main train station in Naples and on its family owned menu is fried pizza, or pizza fritta.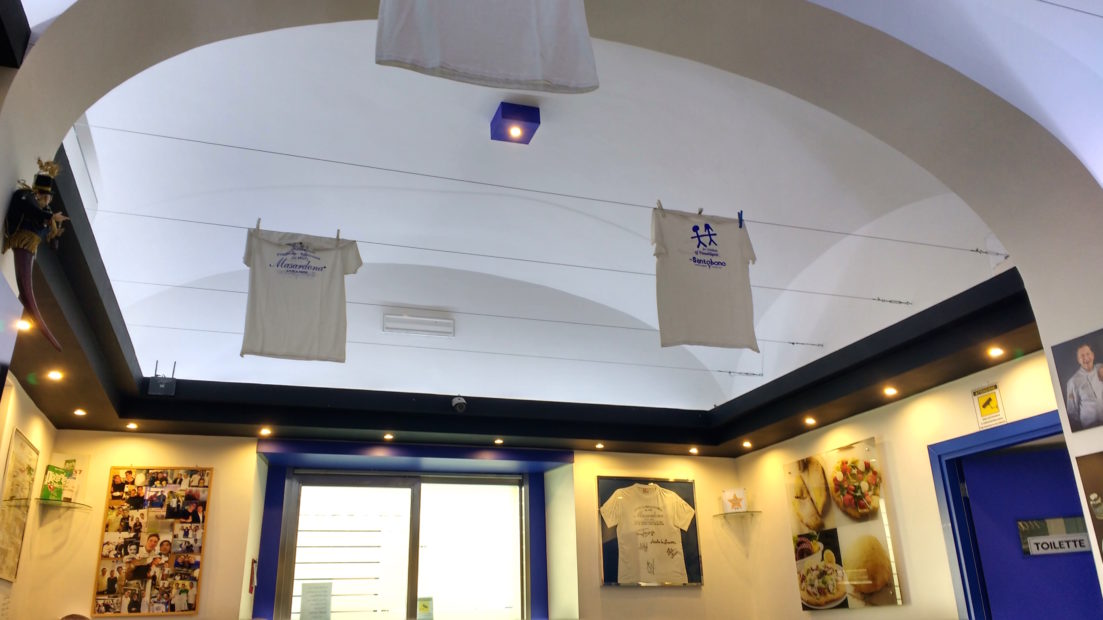 You're either going to really like it, appreciate it, or not care for it at all.
I ordered a vegetarian half size, which resembles a calzone— but fried, of course.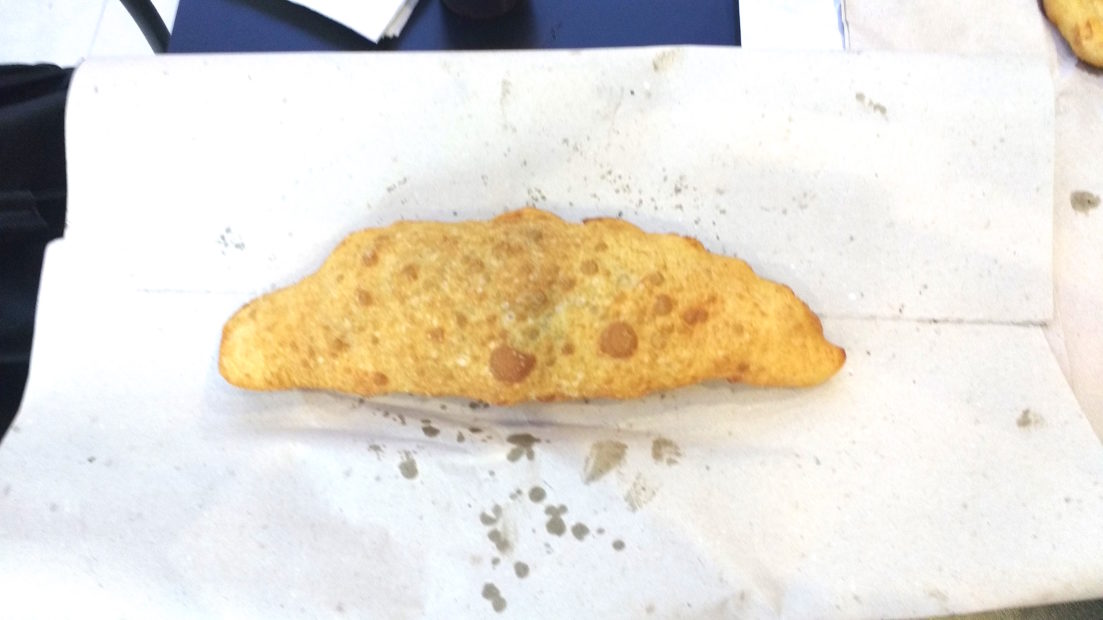 When eating it, you should let it cool off (it's fresh out the fryer) and then hold it with the paper still wrapped around.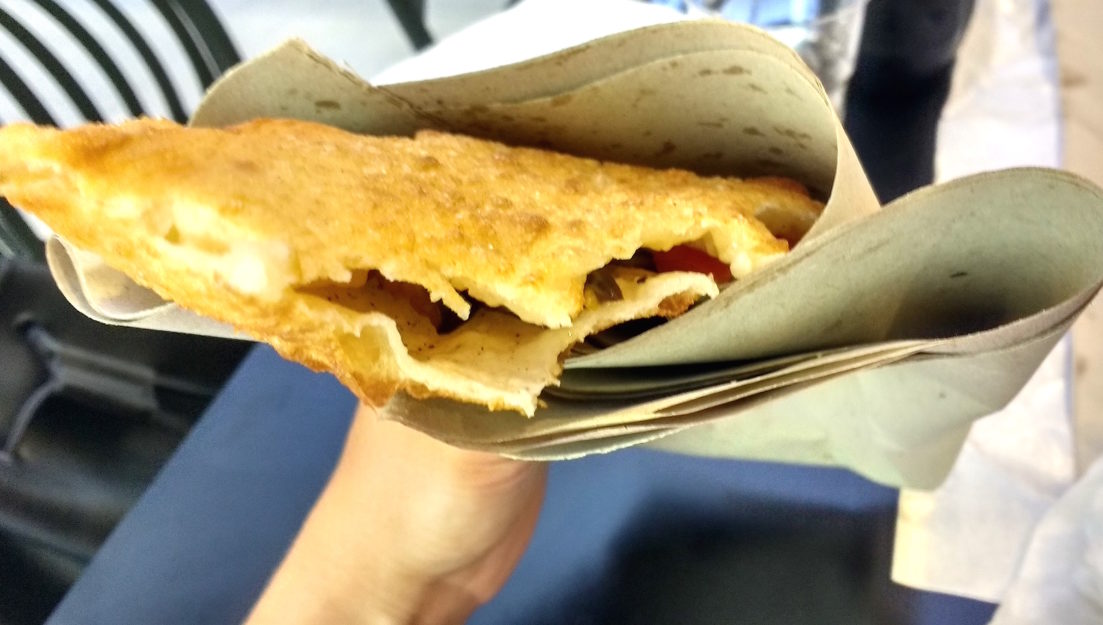 We also ordered a bottle of the sweet red wine, which is Italian tradition to serve with fried pizza.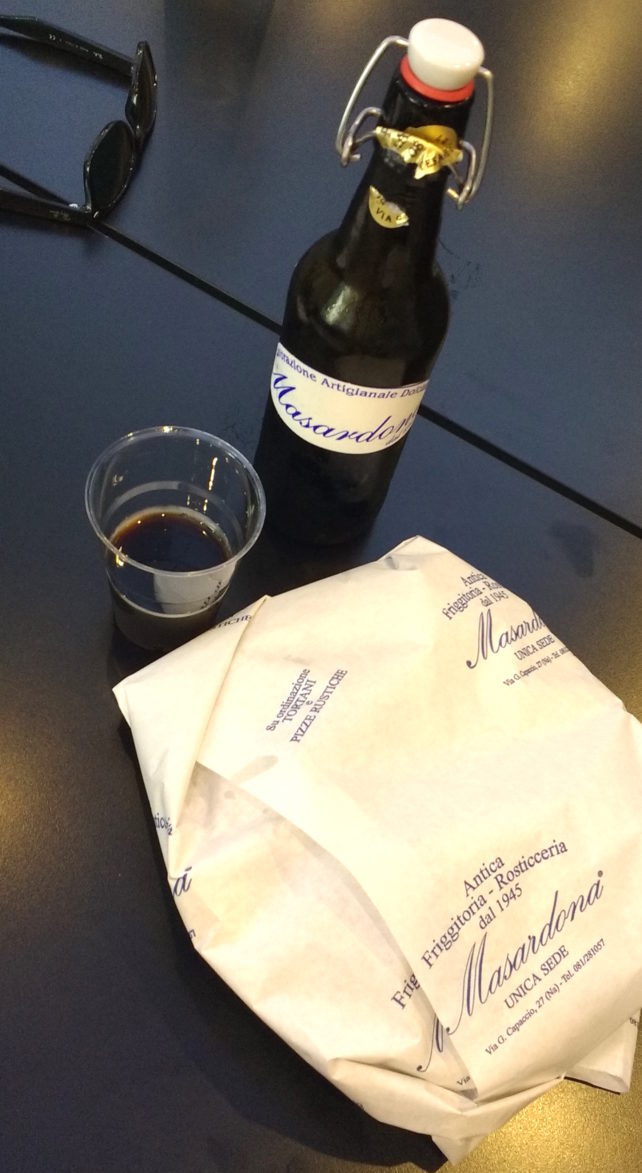 My husband had a whole fried pizza.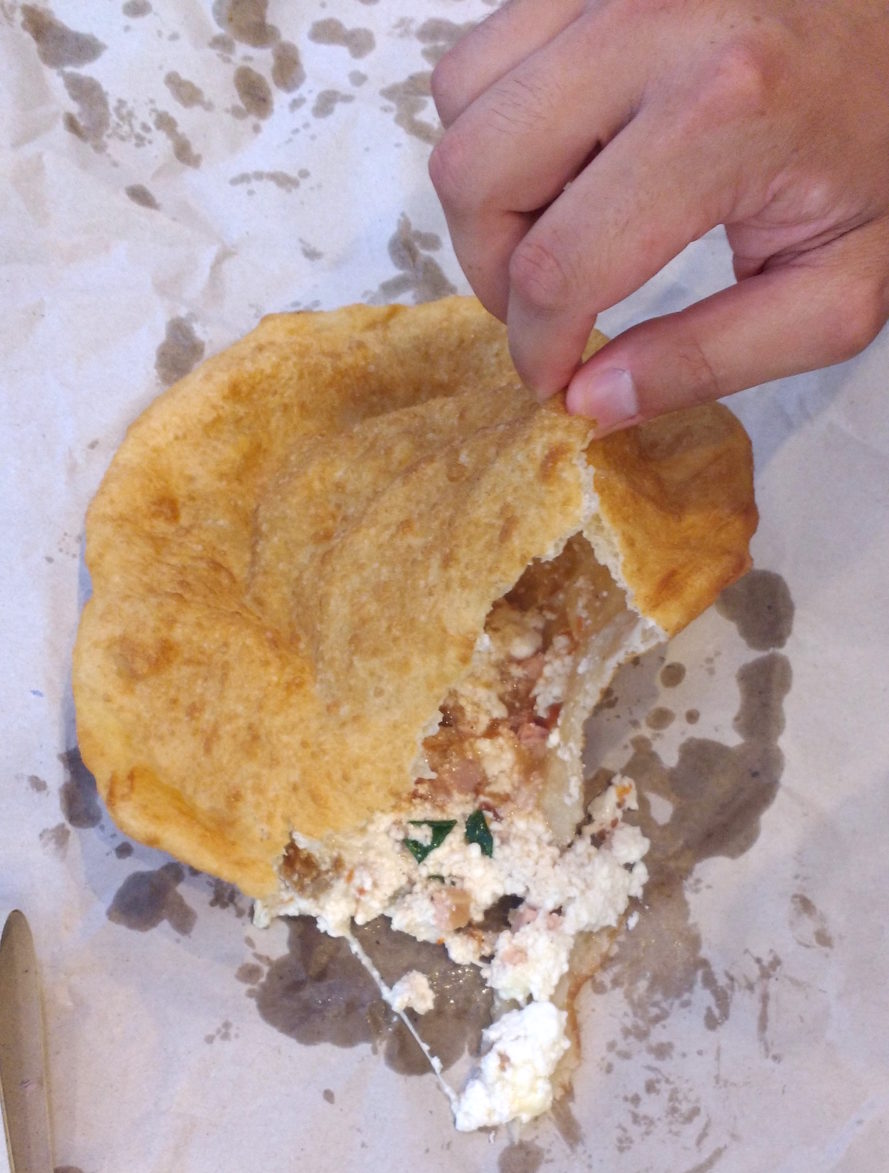 I can say I appreciate this pizza: for its flavor, traditions, and atmosphere. Was it the most amazing pizza I ever had, not really, but it was different and I enjoyed the experience.
Also, this fried chocolate dessert was bomb!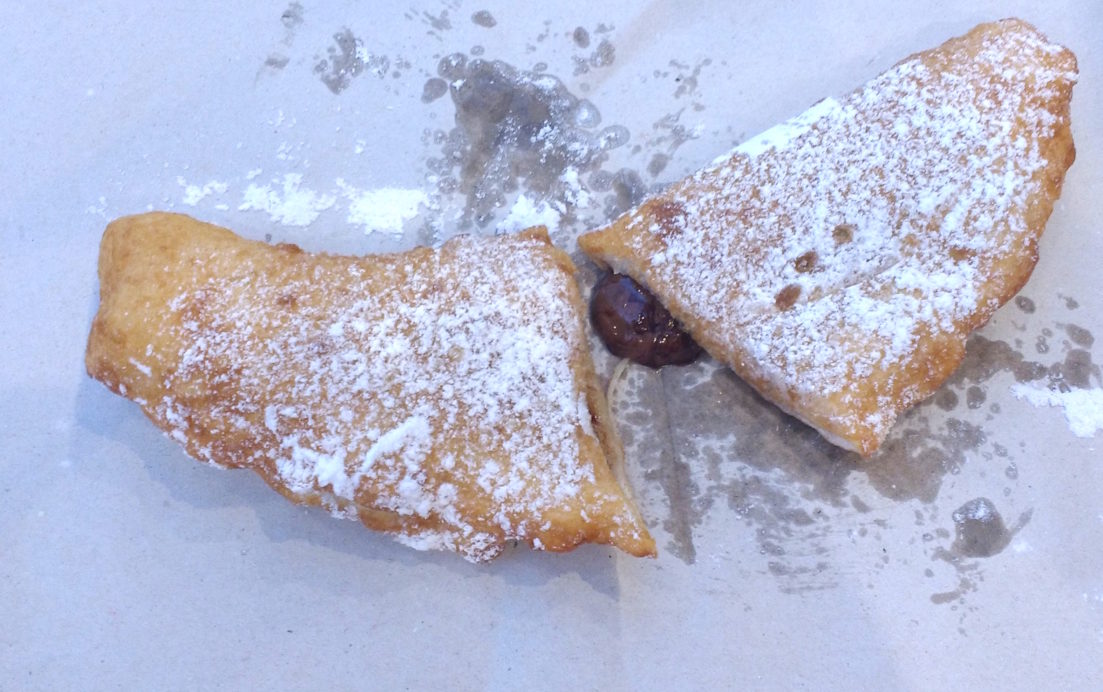 Information for La Masardona
Open: Tuesday-Friday 7am-3:30pm
Saturday 7am-3:30pm & 6:30pm-10pm
Telephone: +39 081 281057
Location:
4. Pizzeria Starita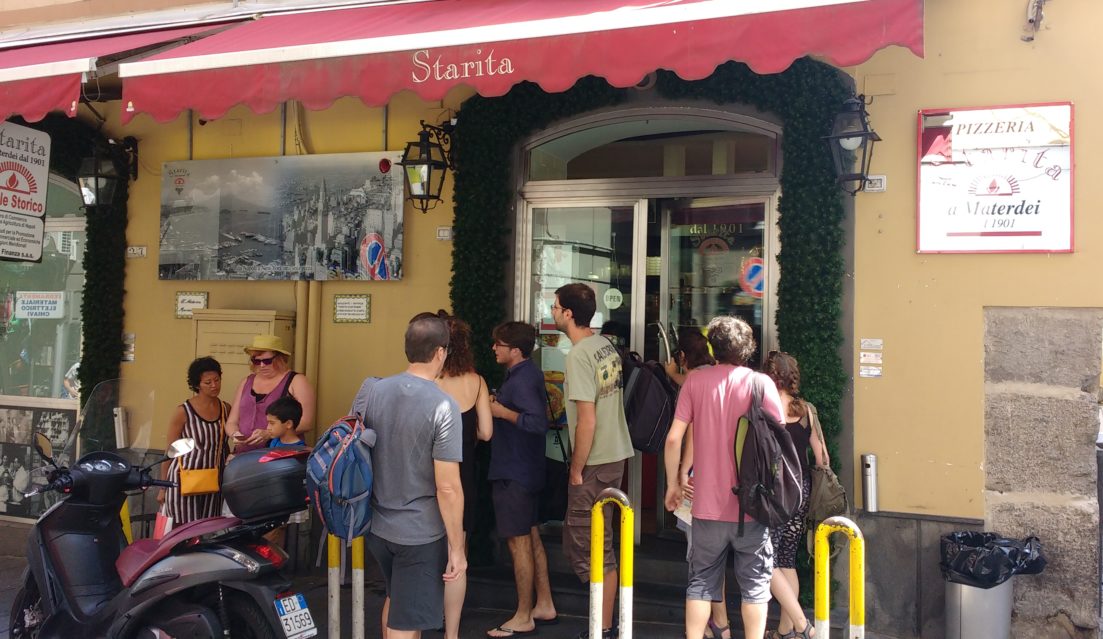 This pizzeria started in Naples, but you can also find it in Milan, New York and Atlanta.
By now I'm noticing a common layout for pizzerias in Naples: their kitchens are all near the front door.
 Maybe it's to showcase all the fresh ingredients being used.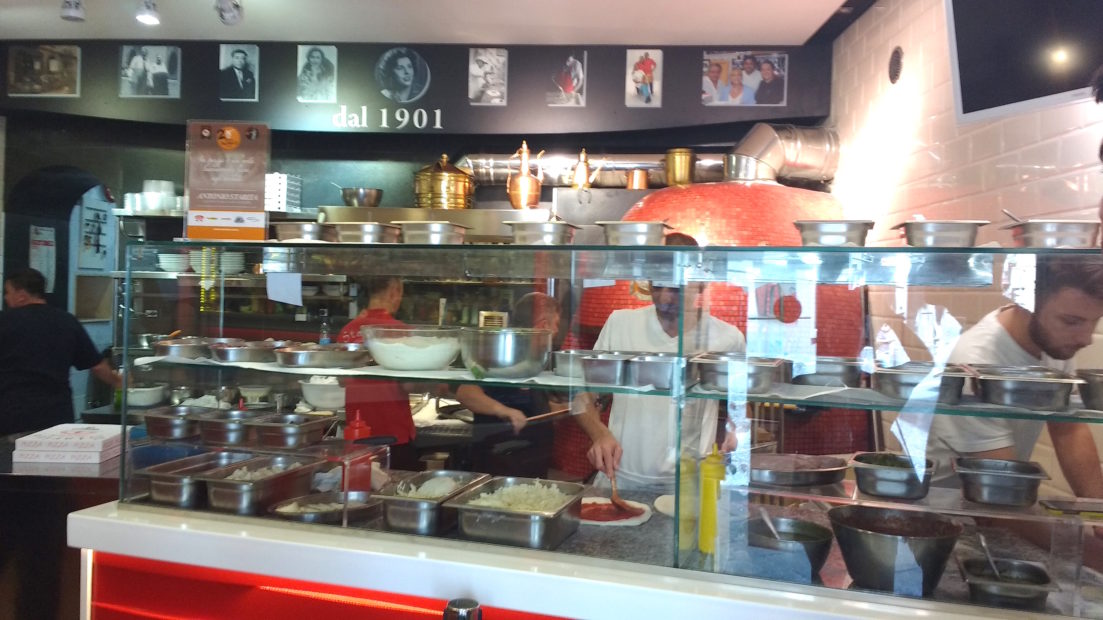 Or to hit you in the face with all the pizza smells. Whatever the reason, its not a bad view.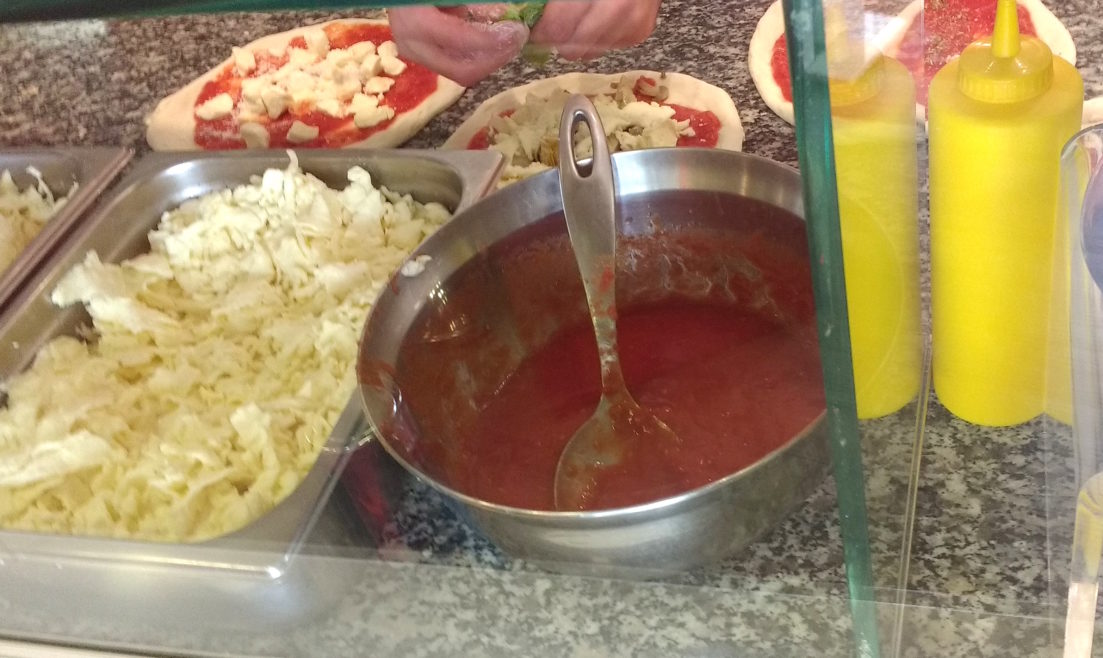 Similar to the last pizzeria, Starita offers a fried pizza too. However, this one is quite different from the previous deep fryer.
The Pizza Montanara Starita has fried dough before it gets topped and baked in the oven.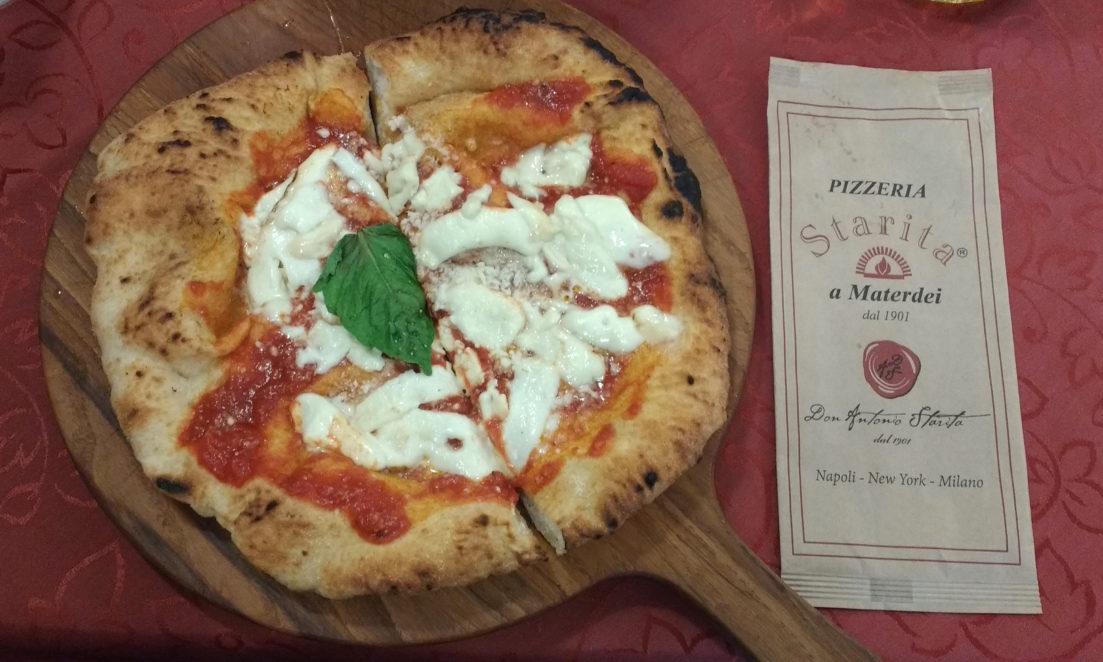 It's tasty and smaller than the normal pan pizzas.
This place definitely has a modern chain feel to it, but it's good pizza.
Information for Pizzeria Startia
Open: Monday- Saturday 12pm-3:30pm & 7pm-12am
Sunday 7pm-12am
Telephone: +39 081 557 3682
Price: Higher prices than other places
Website: http://www.pizzeriestarita.it/?lang=en
Location:
5. Gino Sorbillo Antica Pizzeria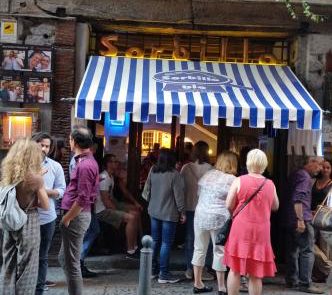 Also located on the same street as Di Matteo, Sorbillo is absolutely and constantly packed with people (they wait outside for hours to dine in).
We wanted to see what all the fuss was about, but the wait seemed unending, so we cut the line and made a to-go order.
I recommend this option because it literally took 20 minutes to order and receive our pizzas.
I'm guessing its the organic flour, biological ingredients, and hipster vibe that attracts so many people to this place? The pizza is good too, close to the one I had at Di Matteo, but it doesn't outshine.
Information for 
Gino Sorbillo Antica Pizzeria
Open: Monday-Saturday 12pm-3:30pm & 7pm-12am
Telephone:+39 081 446643
Website: http://www.sorbillo.it/en/
Location:
Well that's all I have for pizzerias in Naples, there are a few we didn't get the chance to try.
If anyone goes to Pizzeria Dal Presidente (also located on Via dei Tribunali, the street home to Di Matteo and Sorbillo) let me know what you thought. I wanted to try this one as well.