Finding yourself in the Renaissance city of Florence, Italy anytime soon? Needing a quick, but tasty bite to eat? Try a panino, an Italian sandwich noted for its cured meat and aged cheese.
Best of all, it's cheap!
Florence knows a thing or two when it comes to cured meats. Especially with its Finocchiona: a type of seasoned salami made only in the Tuscany region.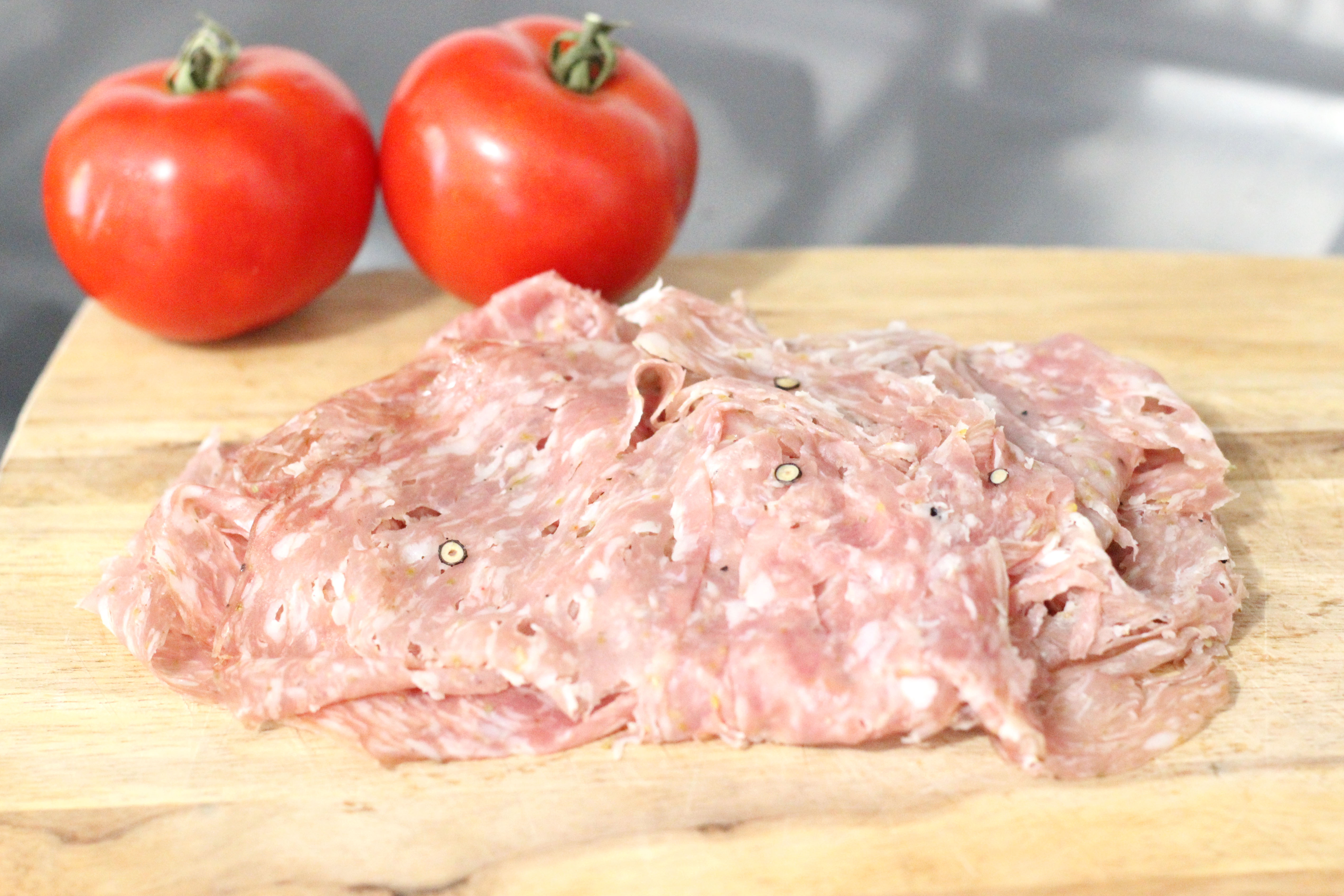 If you're a cured meat lover then all meats will delight your taste buds. But if you're like me, a very picking cured meat eater, then I have some fabulous news about the Finocchiona. It's my favorite Salami in the entire world (well besides the Italian-American spicy salami, known as the pepperoni, but don't try ordering that in Italy because you'll end up with bell peppers, ha 😉 ).
Three Panini to Eat in Florence
1.
First on the list happens to be the Panini shop I liked most, and Tripadvisor rates it #4 restaurant in all of Florence.
Panini Toscani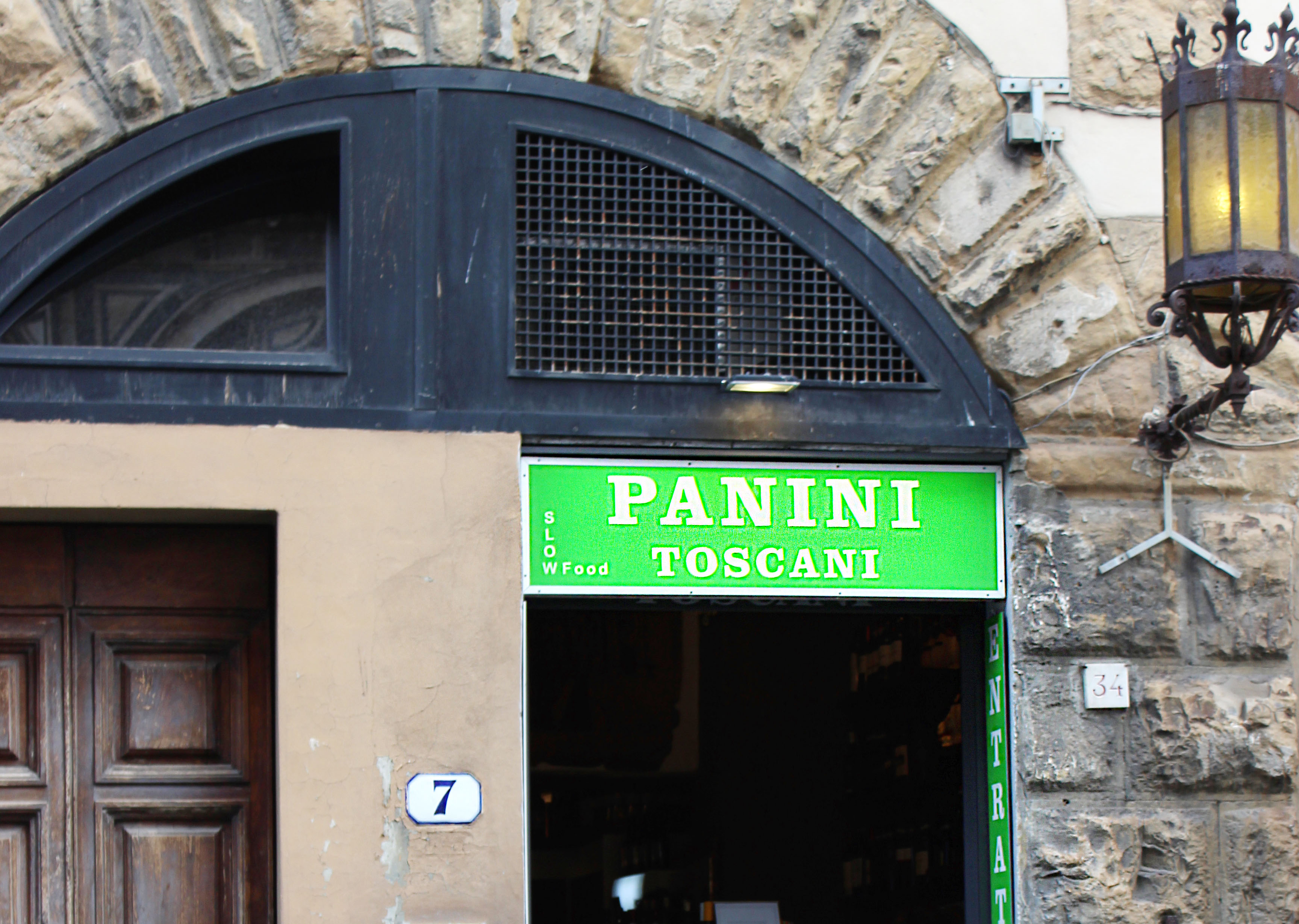 It's probably the best service you'll get during your stay in the city.
The people who work here are incredible. They want to make sure you'll create the panino you'll utmost enjoy by allowing you to sample their meats and cheeses.
You'll get to choose your bread, your meat, your cheese and added condiments all for the same price (around 5 euros), plus no up-charges here people!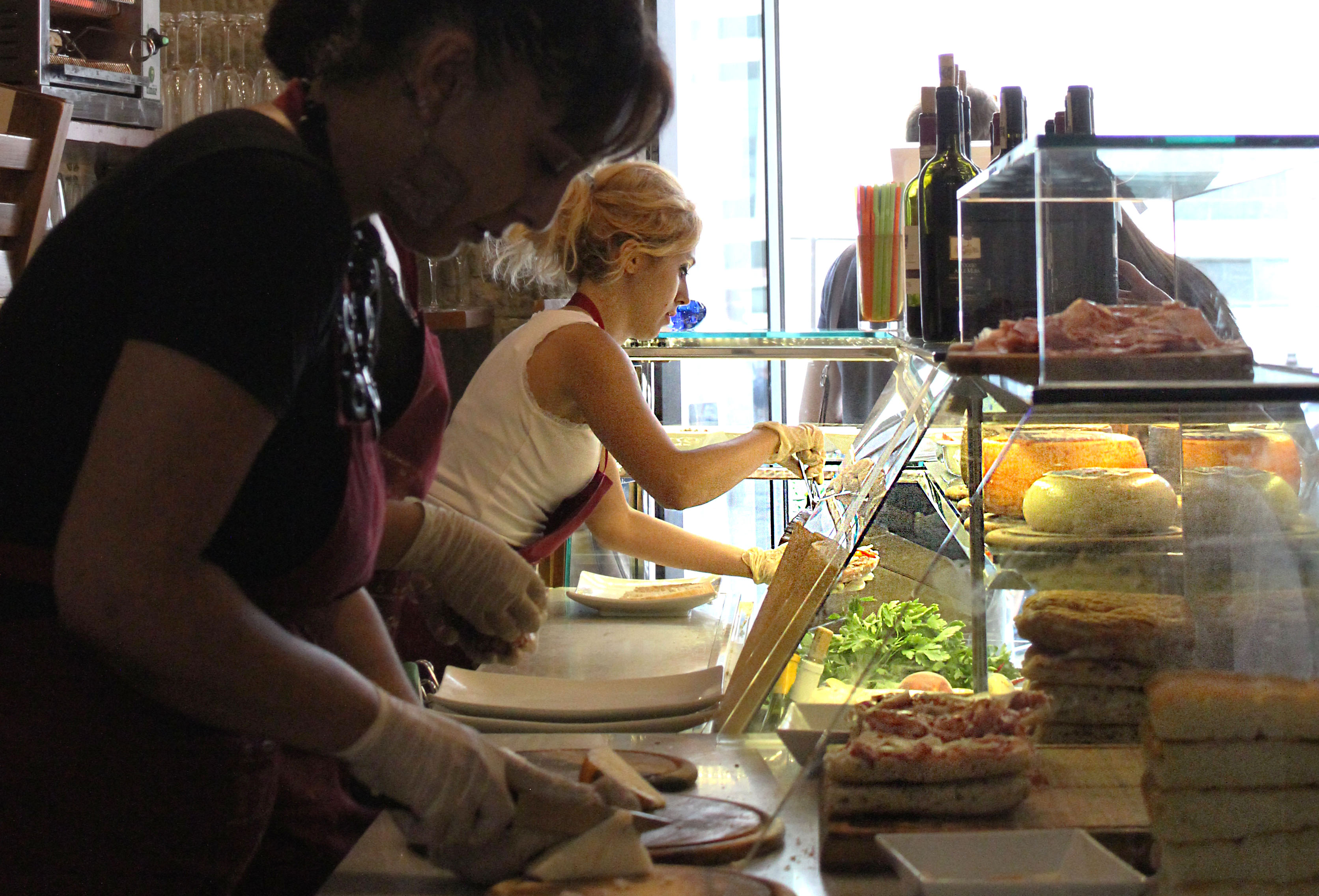 These kind souls make ordering a panino damn fun.
And then, when you take a bite, flavor explosion!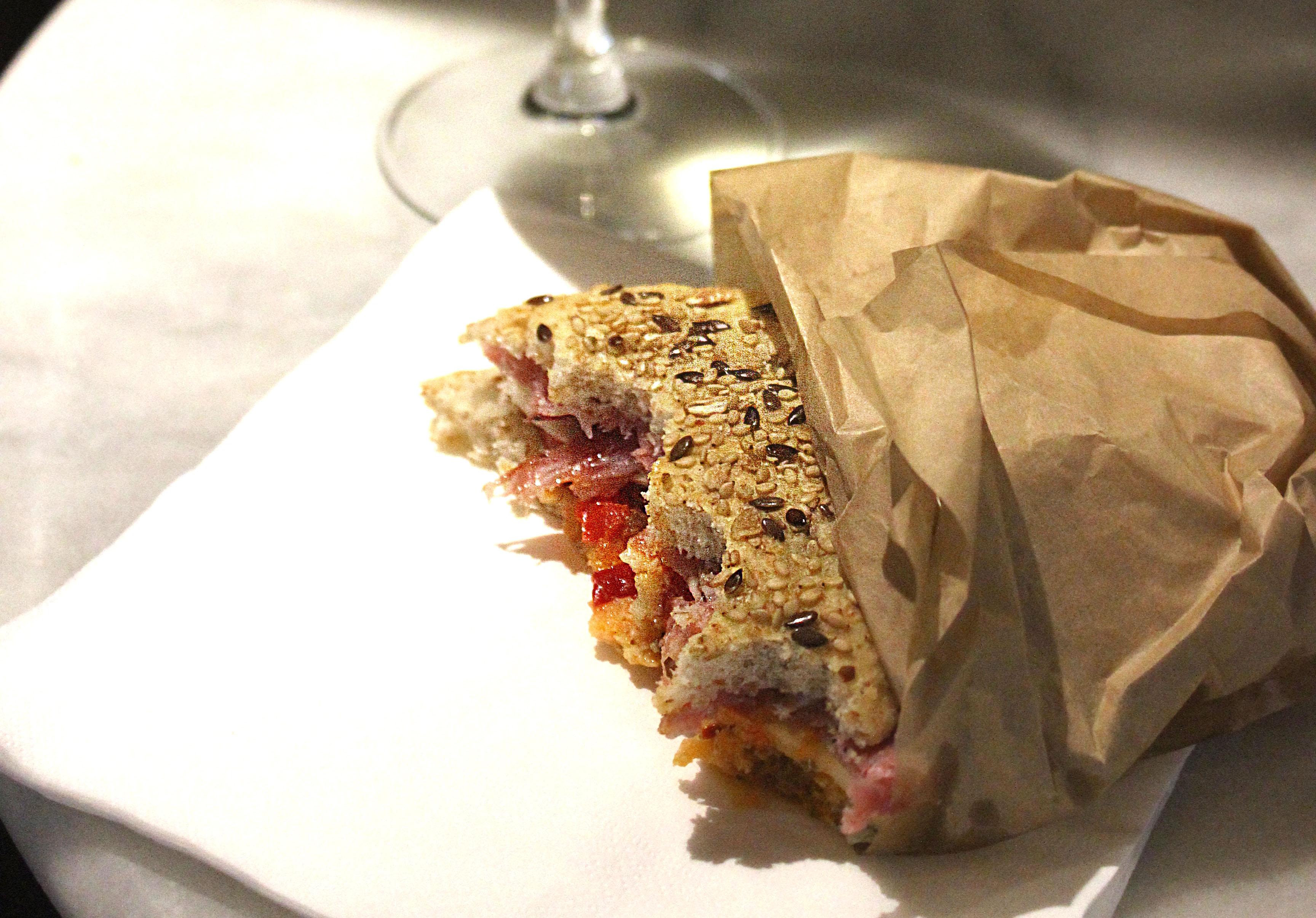 The location of this place couldn't be any better. It's literally right behind the most popular attraction in Florence, The Duomo, and it has extra seating outside.
Days/Hours Open:
Sunday 10:30am-6pm
Monday 10:30am-6pm
Tuesday 10:30am-6pm
Wednesday 10:30am-6pm
Thursday Closed
Friday 10:30am-6pm
Saturday 10:30am-6pm
Location:
Piazza del Duomo, 34R, 50122 Firenze FI
2.
The second panino you should try is at SandwiChic.
Tripadvisor rates it #2 restaurant in Florence.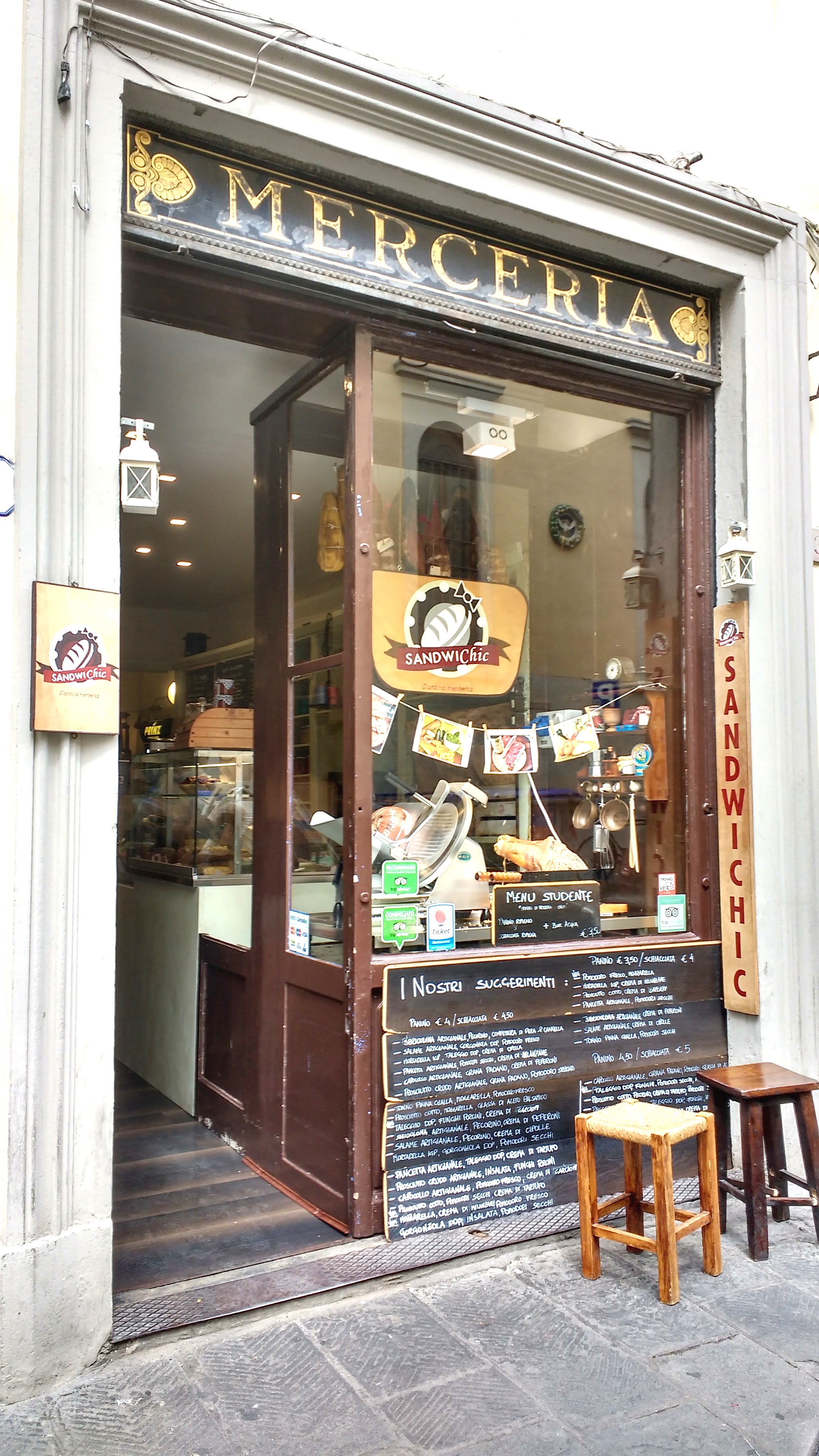 I don't blame the Tripadvisor reviewers who've made this shop a place to be!
I mean it's in a great location, delicious, and so chic.
The friendly staff even wears cute bowties.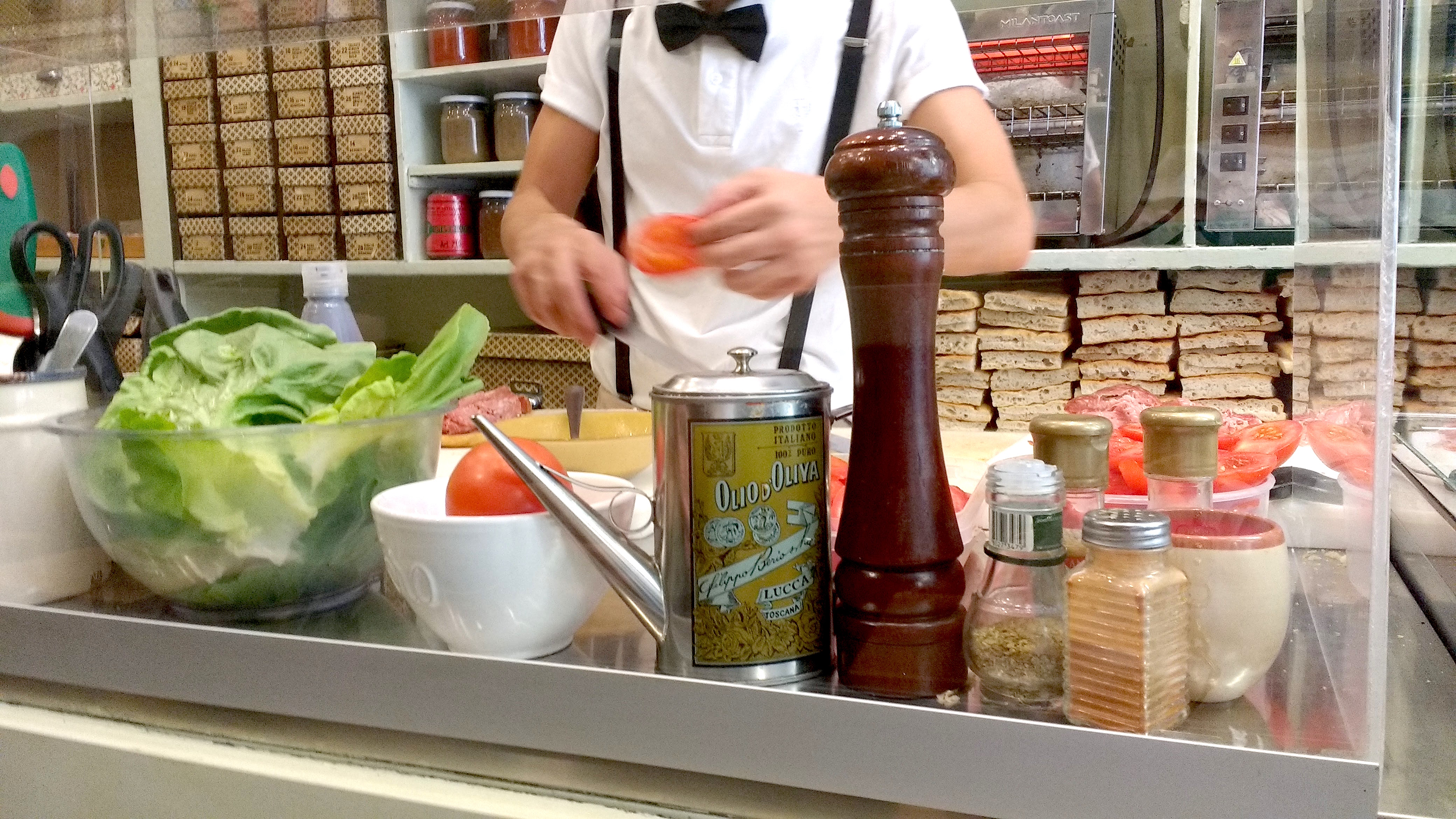 They have a nice selection, too, and you can wash your panino down with one of their soda pop drinks.
Prices start at 3.50 euros,
now that's a sandwich steal!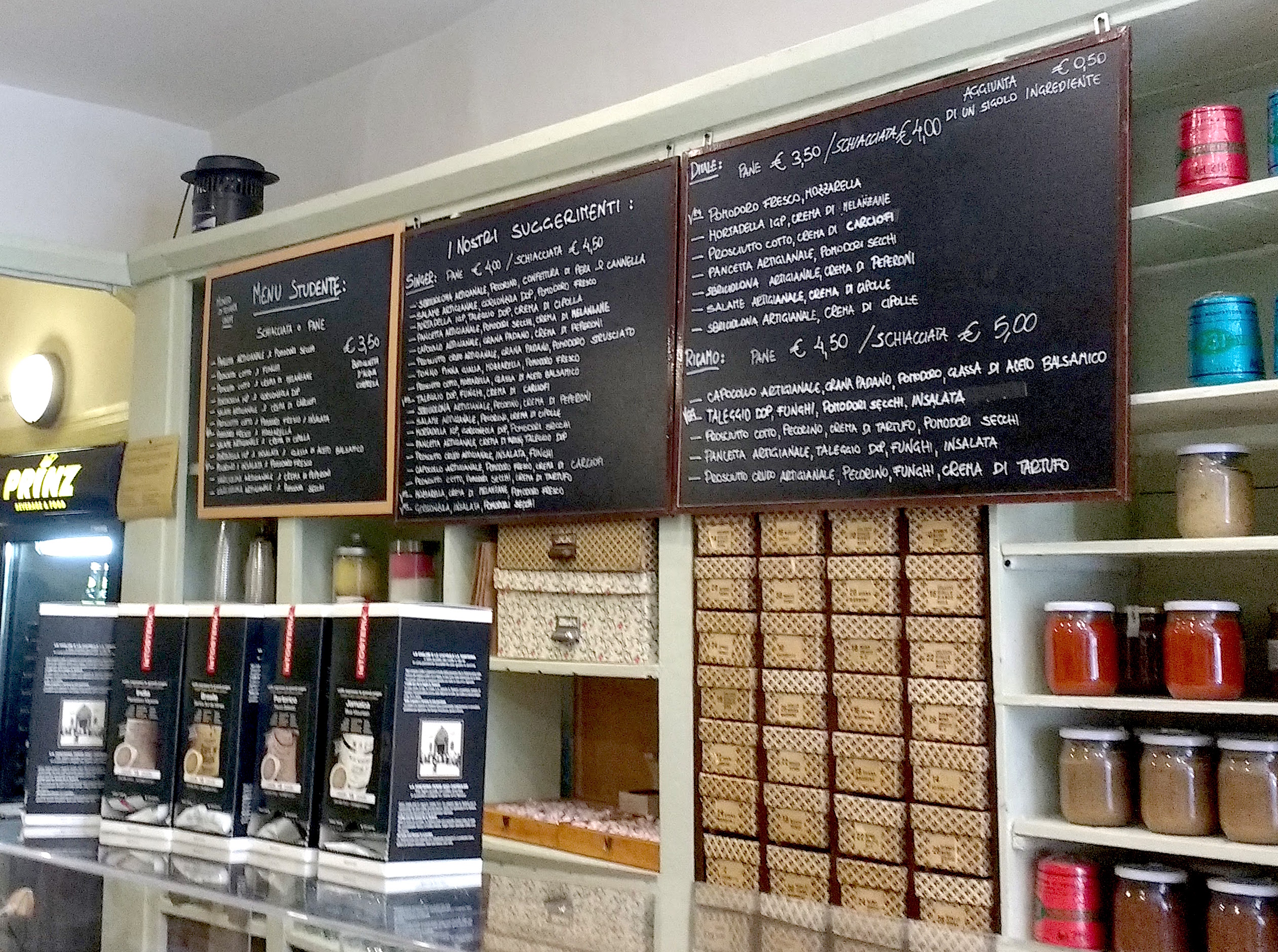 I, once again, got Finocchiona on mine, num num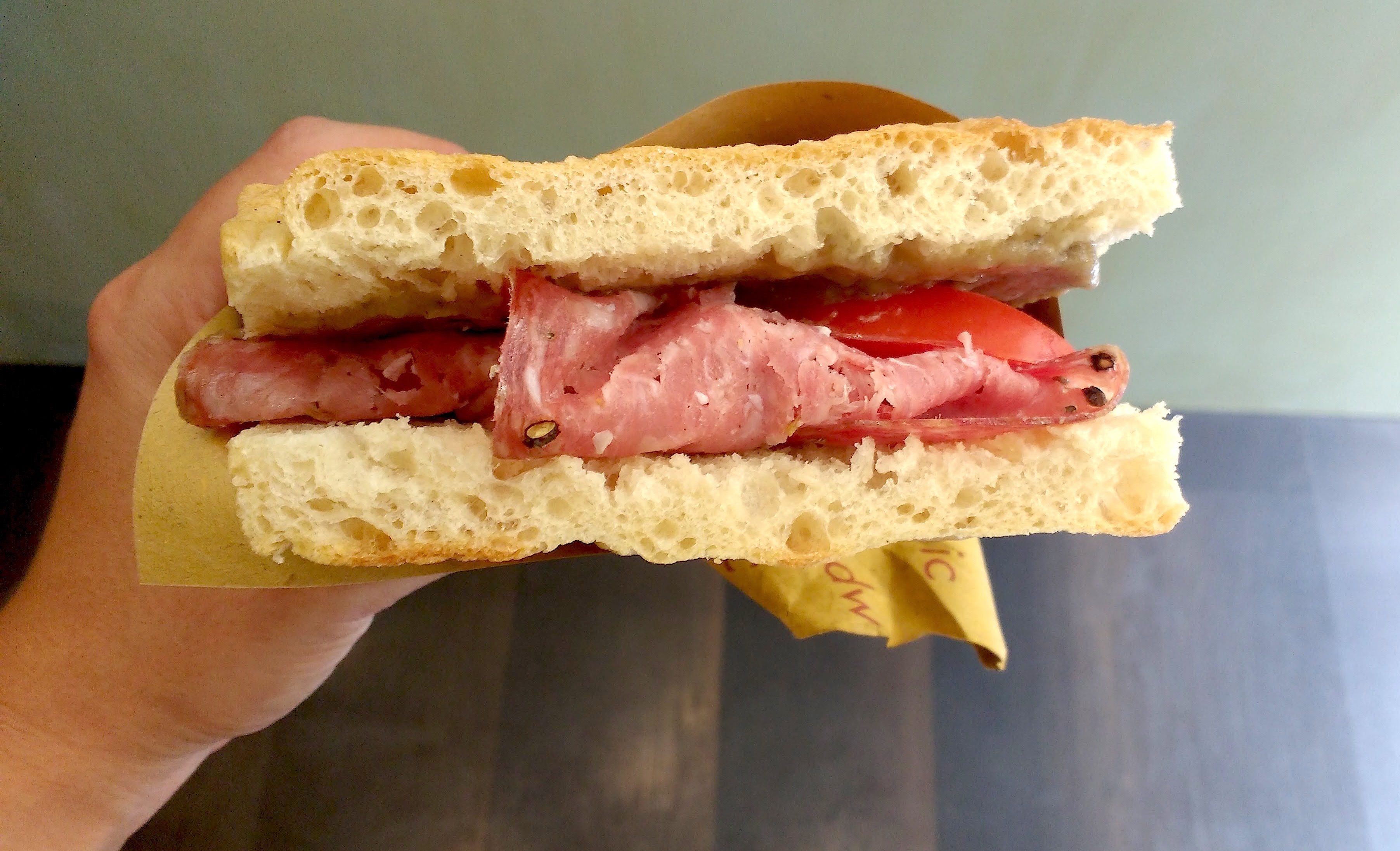 There may be a line when you arrive, and their inside seating is very limited.
Days/Hours Open:
Sunday 10am-7:30pm
Monday 10am-7:30pm
Tuesday 10am-7:30pm
Wednesday 10am-7:30pm
Thursday 10am-7:30pm
Friday 10am-7:30pm
Saturday 10am-7:30pm
Location:
Via S. Gallo, 3, 50129 Firenze FI
3.
Last on this list is All'antico Vinaio. Tripadvisor rates it #14.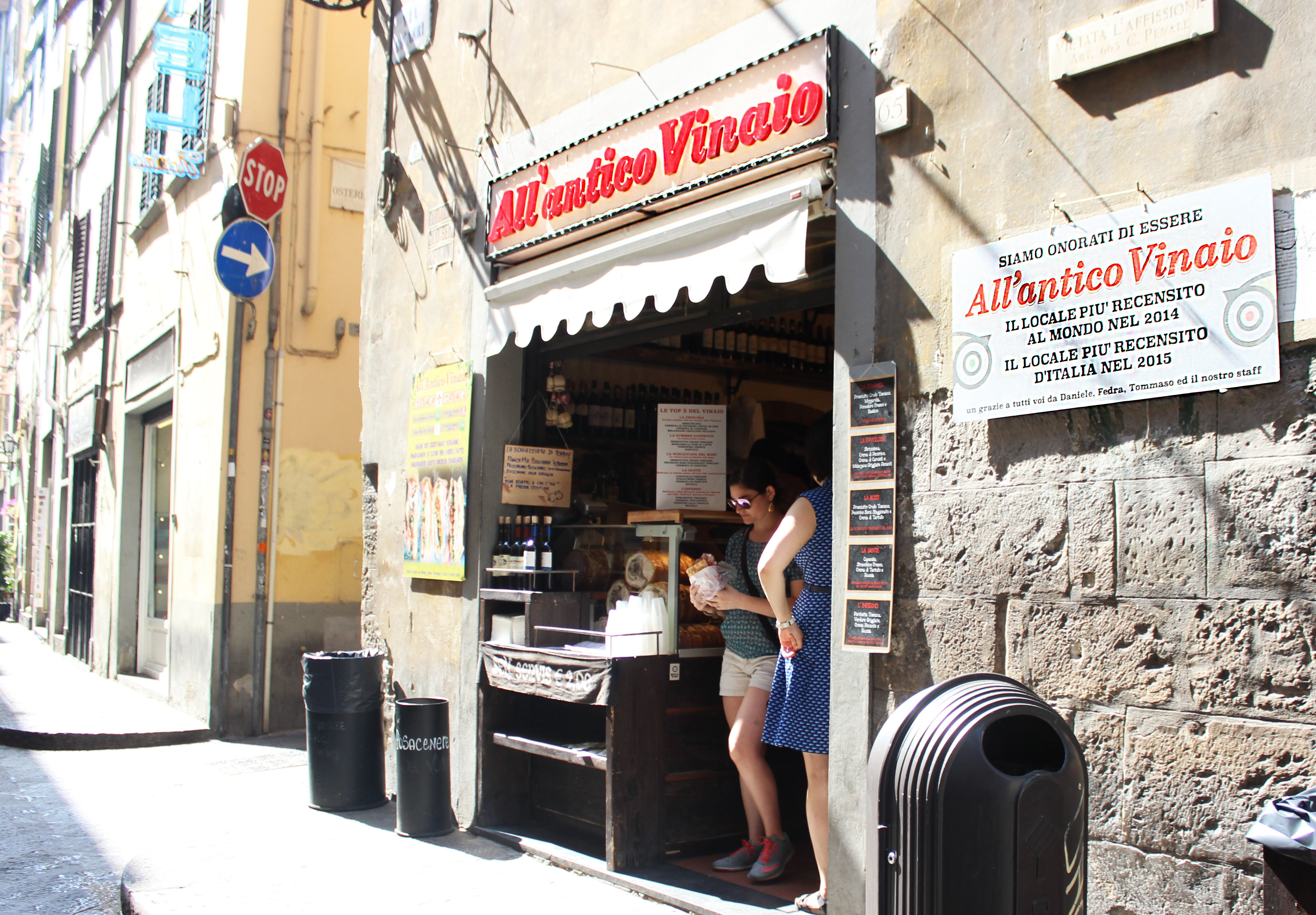 This is a hot spot. A line forms before it even opens (we were part of that line).
And their menu is simple because you only have 5 choices, but the price is still great at 5 euros.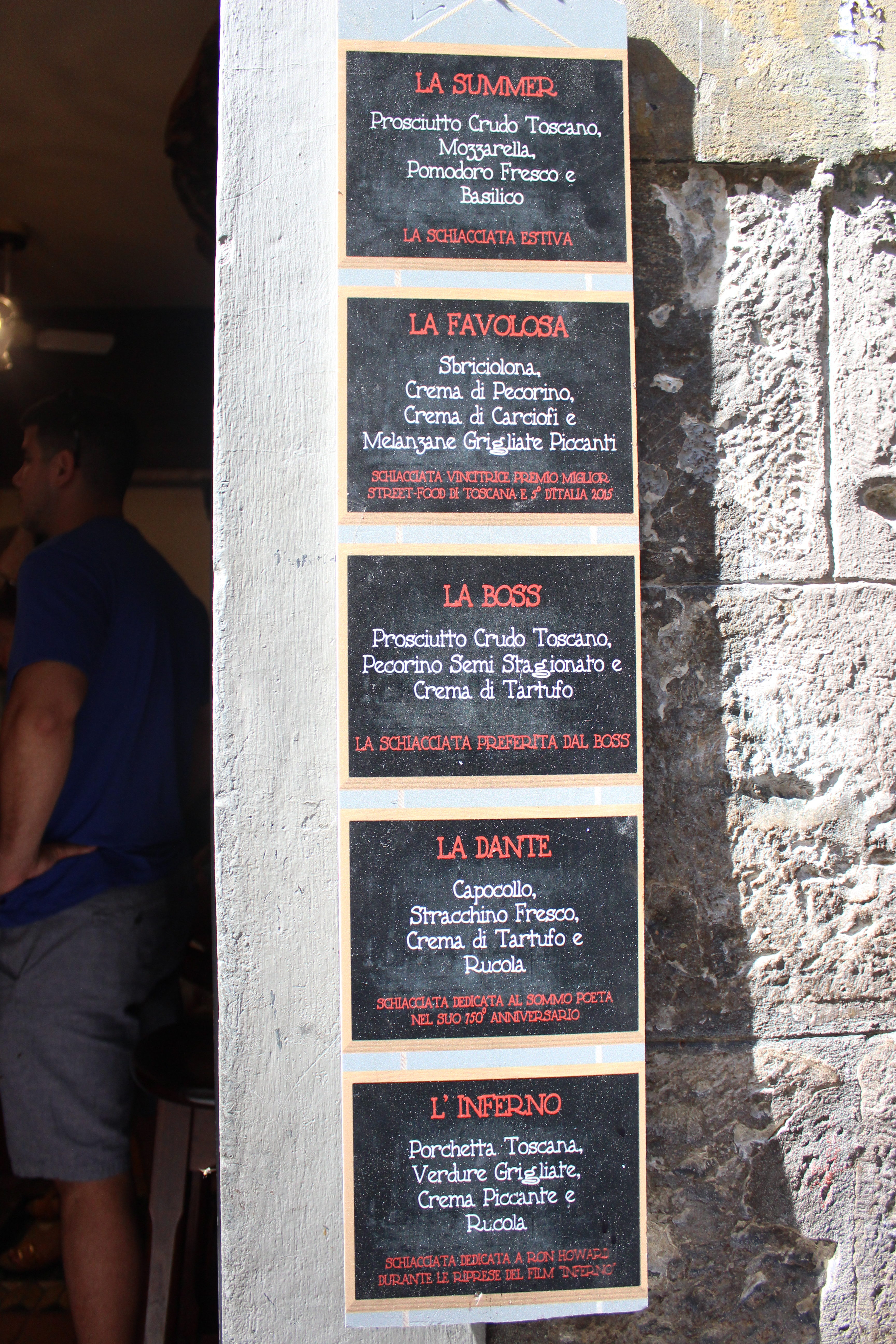 However… I had two problems with this place.
For starters, the service sucked!
They seemed pissed off at us for showing up or something.
And then… I didn't like my sandwich, which was the La Dante 🙁
Not because it wasn't good, but because of that picky cured meat thing I talked about earlier.
However, my husband ordered La Summer and liked it.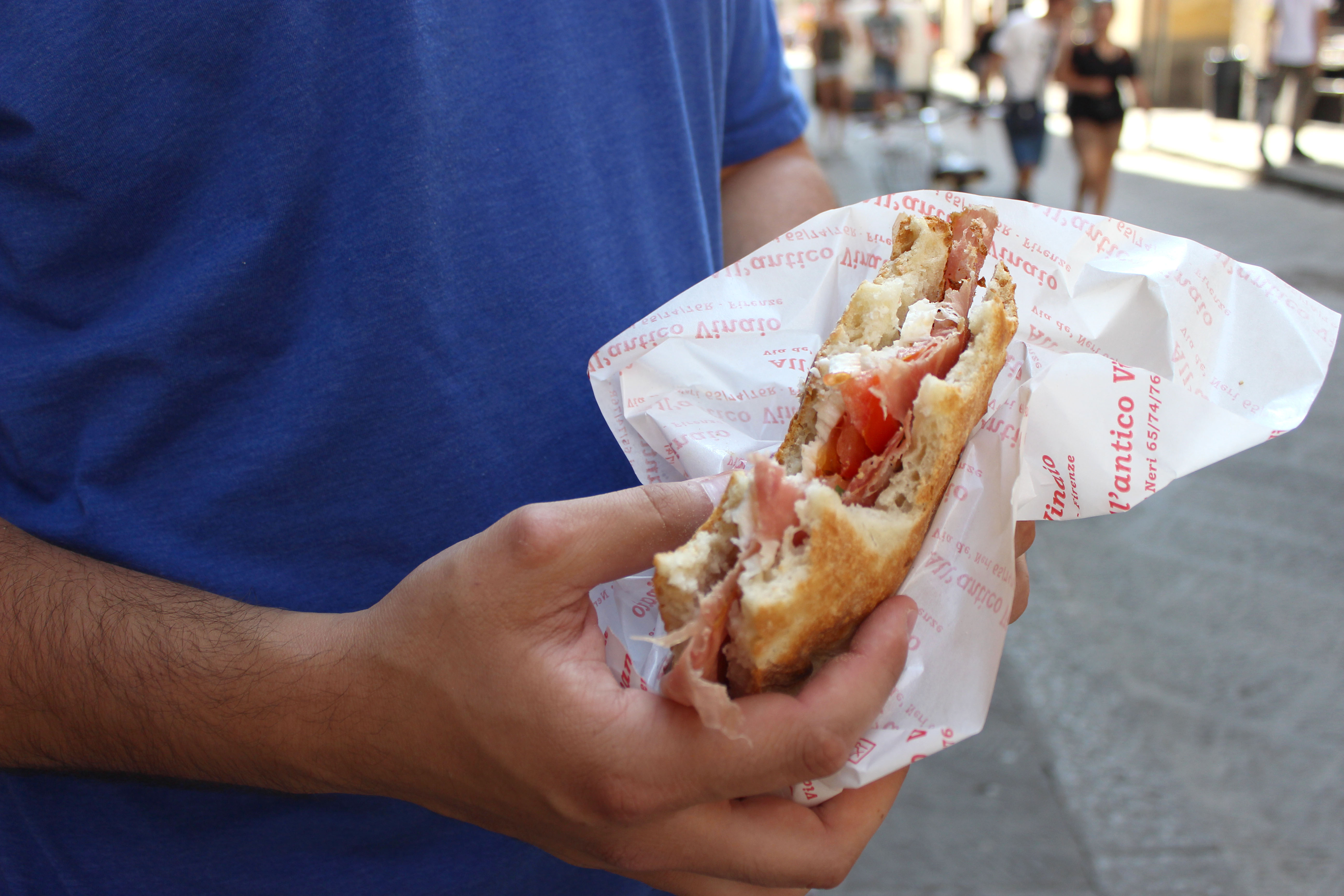 This is definitely a To-go place. They have no seating.
Days/Hours Open:
Sunday 10am-10pm
Monday 10am-10pm
Tuesday 10am-10pm
Wednesday 10am-10pm
Thursday 10am-10pm
Friday 10am-10pm
Saturday 10am-10pm
Location:
Via dei Neri, 74/R, 50100 Firenze FI
When it comes down to it, these three Panini Shops are great alternatives for some good cheap eats around Florence.
And with all the money you'll save, maybe you'll book a Tuscan Vespa tour 😉